Digital FM Impact on Employees' Workplaces
Technology is ever-evolving and revolutionizing various aspects of our life. How can the realm of facility management be untouched? Digital FM solutions transformed traditional workplaces, enhancing efficiency, productivity, and employee collaboration.
This blog explores how digital FM has reshaped employees' workplaces, highlighting its benefits and addressing potential challenges. Let's dive in!
What's the Deal with Digital FM?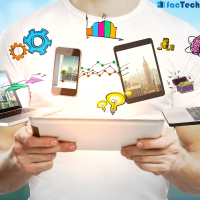 As you may know, facility management involves maintaining physical spaces and infrastructure. Traditionally, FM has been a labour-intensive and manual process.
However, with the advent of digital FM solutions, this landscape has undergone a profound evolution. Facilities are now switching to digital management systems that have made the entire process a piece of cake.
Digital FM Solutions leverage cloud computing and the Internet of Things (IoT) etc. to streamline maintenance and other facility operations. With this innovative solution, organizations are now embracing agility and efficiency in FM. Now, without any further ado, let's quickly hop on to the impact of these tools on workplaces.
Learn more: How FM Companies like Colliers, CBRE are delighting customers with Digital FM
Enhanced Workplace Safety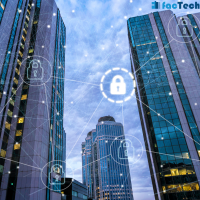 Digital FM solutions foster a secure environment for employees. How exactly? Well, remote surveillance and access control systems enable organizations to monitor facilities and manage access remotely. In case of emergencies, such systems facilitate efficient emergency management as well as incident reporting.
Self-Service Reports
Employees can easily submit service requests. These digital management systems offer self-service portals and mobile apps streamlining the request process. Further, such portals reduce administrative overhead enabling employees to access support and resources effortlessly. Integration with helpdesk systems ensures smooth communication and prompt resolution of issues.
Improved Work Conditions
And this is just the beginning! With digital FM, you can personalize the workplace. Employee service preferences and customization options enable employees to modify their workspace settings. This fosters a sense of ownership and job satisfaction.
These digital FM solutions further integrate with IoT devices and smart building technologies creating an ideal environment in terms of lighting, temperature etc. Let's shed some more light on this!
a) Intelligent Lighting and Temperature Control:
As aforesaid, digital FM systems incorporate smart technology that dynamically adjusts the lighting and temperature to suit occupancy levels. For instance, brighter and cooler lighting can be used for tasks that require focus and concentration, while warmer and dimmer lighting can create a more relaxed ambience for collaborative or creative work.
Isn't this an innovative way to optimize work conditions? Digital FM makes this possible. In a similar vein, you can use occupancy sensors to adjust the temperature automatically when an employee enters or leaves a workspace. This ensures optimal energy usage.
Discover more: Save Energy Consumption of HVAC with Predictive Maintenance
b) Occupancy Monitoring for Social Distancing:
Digital FM leverages occupancy tracking to ensure compliance with social distancing guidelines. You can monitor the occupancy levels in real-time and address overcrowding concerns. This helps in promoting a safe and healthy work environment.
Efficient Space Utilization
Traditional workplaces have fixed office configurations. Very little heed is given to the actual space usage. But now the scenario is different. Using digital FM solutions, companies can rethink and redesign their space utilization. Want to know more? Here you go.
a) Analysis of Occupancy Data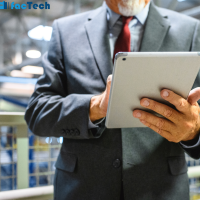 You can analyze real-time occupancy data collected through sensors or badge systems. This will help your company to gain a comprehensive understanding of space usage throughout the day.
This data will reveal patterns and trends, highlighting areas of overutilization or underutilization. With this information at hand, you can take proactive steps to optimize your office layouts. Let's understand this with an illustration.
If your data indicates the underutilization of a few workstations, you can consider redesigning them. This may involve repurposing the area for collaborative work, creating shared spaces, or implementing flexible seating arrangements.
b) Desk and Room Booking Systems
Employees can reserve workspaces and meeting rooms with ease using digital FM solutions. This ensures that employees have access to the spaces they need when they need them.
Desk booking systems enable employees to reserve specific workstations or desk areas for a designated period. This is particularly beneficial in workplaces with flexible or hot-desking arrangements.
Through a digital platform, employees can check the availability of desks, choose their preferred location, and reserve it for a specific time frame. This eliminates the frustration of searching for a suitable workspace and minimizes the chances of double bookings or overcrowding.
Furthermore, digital FM tools can integrate with other workplace technologies, such as digital signage or calendar platforms, to provide real-time updates on room availability and booking status. This ensures that employees are always aware of the current status of rooms, preventing disruptions and enabling them to plan their activities effectively.
Data-driven Decision Making
As mentioned before, companies can gain tremendous knowledge into workspace utilization, resource allocation etc through analyzing data. This wealth of data empowers facility managers to make informed decisions that optimize the workplace environment and ameliorate workplace efficiency.
How exactly? Well, as you may know, by leveraging analytics and predictive maintenance tools, you can determine maintenance needs in advance. This helps in minimizing downtime and ensures a seamless working experience for employees.
The Bottom Line
In this blog, we have gone through some of the most compelling benefits of digital FM solutions in employees' workplaces. From enhanced safety and security to workplace sustainability, digital FM tools do the magic.
Let's wrap up now! But wait, what about the future? Looking ahead, digital FM holds immense potential. For instance, advanced machine learning algorithms will further enhance predictive maintenance capabilities. Furthermore, companies can consider integrating digital FM systems with employee experience platforms fostering employee comfort and well-being.
If you have any queries or suggestions to add, don't hesitate to comment. Until next time!
Contact us for a free demo of how our expertise can help you achieve your business goals to the best.