Facility Management Continous Improvement stories
Here are the different posts shared on Linked-In, related with Facility Managers.
Nov 26, 2021
Are you monitoring the Most Essential Equipment of your Building? 
UPS provides an essential power supply when the initial electricity source fails. UPS is one of the most critical assets, its failure can't be tolerated and impact your running business.
FM monitors and maintains UPS through hourly checks and preventive maintenance schedules. 
✅Factech Kaizen communicates with UPS to:
👉 Monitor AC Voltage, Battery Voltage
👉 Monitor Temperature in UPS Cabinet
👉 Display Battery Level and Remaining Time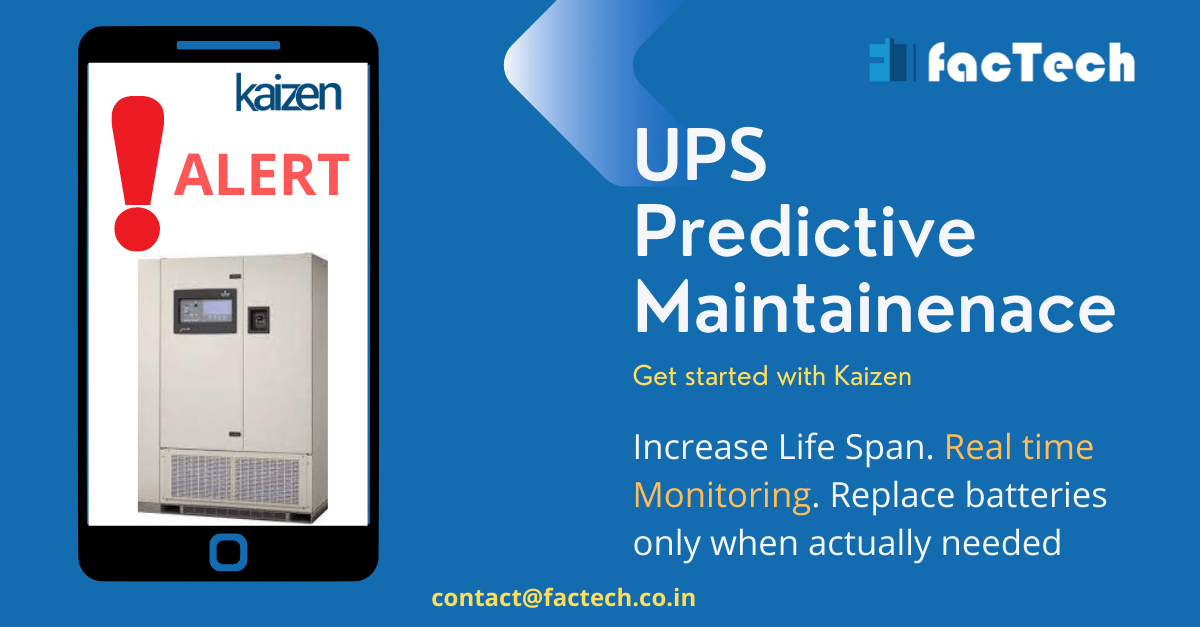 Nov 23, 2021
✅Facility Managers –  Boost Productivity
As Facility Manager you are responsible for steady operations of facilities in a site.
High productivity makes you more effective and gives you time to 
Hone, Learn, Train & Grow

Work on Improvement

Focus on Future Growth
✅How FM teams can improve Productivity
👉 Eliminate Noise: Ask what is important & Essential, focus on these and eliminate the rest.
👉 Short Term Goals align with Mission: While a bigger goal still stays, the completion of small tasks will help in creating a sense of accomplishment.
👉 Simplify: Know your strength, weakness, and limitations to take up projects that are achievable.
👉 Schedule and Distribute Work: Adopt Preventive Maintenance scheduling to ensure that mandate tasks are auto-assigned. An automated system can ensure that heavy lifting of operations is done automatically
👉 Timely Supervision: Regularly supervise to gauge the expected requirements and completion statuses.
👉 Happy Employees: Happy team members are more productive, so invest in your team. Give them tools to hone skills, personality development.
Nov 19, 2021
Are you proactively managing Facilities❓
Does your team flags potential issues before the user initiates contact? Rather than waiting for a reaction, the team works on a proactive basis that quells user worries before they can complain about it. 
A proactive approach not only decreases issues, it also helps retain customers. 
✅3 Steps of Proactive FM✅
👉 Identify & confront reality: Identify the problem without your emotions clouding your judgment. Take a fact-based and data-driven approach for analyzing the problem. Identification of cause is very important in order to work towards the solution.
👉 Solve: Come up with a holistic solution for the issue. Compare similar incidents & case studies. Examine the root cause and build up the solution in the backward to ensure the low possibility of recurrence
👉Prevent: Anticipate history and work so that issues can be prevented. Prevention saves you lot of hours and money.
What would you like to add for the Proactive FM Approach? Share in comments 👇
Nov 16, 2021
How can you reduce downtime and cut costs of maintaining your property?
Below are a few ways
Keep Maintenance Backlog in control. Kaizen CAFM helps you to balance resources and maintenance costs so the backlog doesn't get out of hand. 

Doing maintenance before something breaks, Kaizen CAFM with PLCs, sensors, allows you to track asset health in real time, catch failure before it happens, diagnose problems.

Forecast accurately the parts that you'll need. Knowing critical parts that must be there while doing maintenance. Kaizen CAFM AI-Powered forecasts help you to eliminate costly stopgap measures.

What you measure, you improve. Kaizen CAFM enables you to track everything related to work order including Parts, labor, and other expenses.

Save Energy by moving to Predictive Maintenance from Reactive Maintenance. 

Automate and Standardizing Process helps you to reduce Operation Costs.
Sept 7, 2021
Are you a settler, migrator or pioneer?
Many companies remain in the zone of Me too. Yes, we exist and we are making the life of the end customer better. Doing the operations and fulfilling the need and earning revenue in part of services they offer. These SETTLERS come and go, customers keep hopping settlers, looking for value improvement services.
Some are MIGRATORS, which improves operations and value and experience of the end customers. It's like cream over ice, they are liked by customers, and are able to win trust longer with the customer. Migrators create improved value with more cost. They follow and learn from industry best practices and pioneers.
Few companies are PIONEERS. Pioneers do value innovation and transform the way operations are managed. These companies delight their customers and customer's customer. Pioneers are able to create much higher value with the same or even less cost. These companies keep innovating new ways of value creation. Pioneers disrupt the markets or extend reach to non-customers so that competition becomes irrelevant. Pioneers enjoy customer trusts for decades until a better pioneer emerges.
Being a pioneer company doesn't mean that she will not be doing migrator or settler services. Yes, there will be a mix of services or operations, but many of their offerings will be in the pioneer zone. 
What is your Company?
Factech helps FM & Real Estate companies to transform their operations and become Value Innovators.
August 10, 2021
Does your Maintenance Strategy consider Evidence? 
Evidence-Based Maintenance(EBM) improves the reliability of your costly assets and equipment. 
Property Owners' teams often complain that they are not sure if the maintenance has actually been done. 
Mostly, maintenance reports only provide the details of failures, repair procedures, and any spare parts used. Information about the measures needed to prevent that failure is missing in reports. 
Knowledge of the history of a failure enables the continual improvement of the maintenance Strategy. This helps us to choose the most appropriate approach ensuring Reliability and Safety. 
EBM begins with the analysis of failures ( Evidences). The 2 Steps EBM Process is 
Work Order ( WO) classification using a set of Codes.

Identify Key Performance Indicators( KPI) suitable for your Equipment
What are your preferred KPIs for EBM?
July 10, 2021
Are you dumping your costly Equipment before their useful life? 
Did you compare the critical Asset Actual vs Expected vs Useful life? 
The useful life of an Asset is the duration till when it will remain in profitable service. 
Mostly, we take estimated useful life either as specified by the Manufacturer ( Warranty Period?) or as per our Depreciation strategy. 
There are instances where maintaining an Asset is more costly than Replacement. So we need to retire Assets before their estimated useful life.
Effective Preventive Maintenance enables the complete useful life of the Asset. And may help to exceed the estimated Asset's Useful life. 
Electrical Equipment like Air Conditioning systems, DG, etc. cost us significantly. Increasing Useful life by 10% will have a huge positive impact on our Finances. 
Facility Managers(FM) play a critical role in the timely maintenance and repairing of Assets which in turn impacts Profit positively.
CMMS System ( Refer Comments) helps us in Effective Life cycle Management of the Assets and reducing overall costs.
How do you increase your Asset Useful Life?
July 3, 2021
Why is your Equipment downtime High? 
Downtime is the period when the Equipment, Machine or System is not operating. Downtime is the reality in any facility. 
Equipment Downtime not only costs us financially but also emotionally as our tenants are getting impacted. As an FM team, our goal is to minimize the downtime and its impact. We should target downtime of less than 10%.
High Equipment downtime might mean that Preventive Maintenance (PM) is not performed properly. 
Using Facility Management System can help you to reduce the downtime like: 
The system can empower you to track downtime hours, location, reason of issues.

PM or Predictive Maintenance (PdM) schedules with well-defined instructions or checklists.

Well defined maintenance processes to resolve downtime events

Improving Staff communication

Simplifying maintenance requests.
Facilities Maintenance culture plays an important part in reducing downtimes. Is your team being proactive? Do we have a backup of important systems?
How you reduce your Equipment Downtime. Comment here.
#realestate #facilitymanagement #maintenance
June 20, 2021
Bomb in your Building!!! What will you do as FM? 
"An emergency is a situation that poses an immediate risk to health, life, property, or environment." – Wikipedia
Emergencies are rare, but when they happen it's a crisis situation for Facility Management (FM). 
Does your team know what to do in case of an emergency?
Facility management have to be ready for anything from bomb threats to flooding, workplace violence, labor strikes, Corona Lockdowns, and more.  
Emergency Response Management (ERM)  plans to help you to control and manage unexpected events in a better way. 
ERM is typically a documented procedure that explains how the FM team should respond depending on the situation.
Since Emergencies can occur any time unexpectedly, ERM is effective when procedures are updated regularly, accessible and searchable easily. 
Suppose someone called Reception at 10:30 PM  and told you about Bomb in your building. 
What questions will you ask to validate the threat? 
What is the first thing you will do if the bomb threat looks somewhat valid – Will you call Police, Raise Alarm, Inform Tenants, Inform the Manager, Inform Security, Engage Caller to know more? 
The first few minutes are very critical in case of an emergency. Few wrong steps can create panic and can cost Lives, Property Loss, etc.
If you have a System in place to just type a few words on your mobile screen you get the related procedure right on your mobile. You have a well-defined modus operandi. This helps you and your team to handle the situation better. 
What emergencies have you faced?
June 17, 2021
How much of your Inventory is obsolete? 
Inventory if not managed properly can lead to hefty financial losses. Poor inventory management can lead to higher costs for parts and storage, imbalanced maintenance scheduling, and an increase in obsolete inventory and stock outs.
Three key problems that arise due to poor inventory management are: 
Too Much Stock

Too Little Stock 

The Stock you can't find
The typical cost of storing inventories is between 13% to 20% of total purchase cost. 
Obsolete inventories sit in our valuable space and balance sheet for long. Worst of it, when we need a part of repair, obsolete stock also increases our downtime. 
Tracking down the lifecycle of inventories like when it was purchased, what is the warranty date, when they will become obsolete, can minimize the capital tied to the stock. 
How do you track obsolete inventories? Please share your comments.
#realestate #facilitymanagement #maintenance #inventorymanagement
June 10, 2021
Do Missed Compliances Cost Most in Facility Management (FM)?
I am surprised that Most Facility Management think that Missed Compliances cost more than Asset Breakdowns. And even more than Assets retiring before their life.
Last month Factech Solution did a survey over linked in. The question asked was 
What is the costliest in Facilities Management & Maintenance? 
41% of votes were for Missed Compliances. 31% of people think that Asset Dying Before Life Cost most.
Asset breakdown gets only 10% votes even less than missed Standard Operating Procedures ( SOPs). 17% of Facility Management think that Missed SOPs cost them most. 
Though compliances are one of the most important responsibilities of FM. There are huge penalties from regulatory authorities.
But what if a costly HVAC system life is shortened by 10%. Does it not cost you more? 
If your UPS is down does it not impact you financially and emotionally? Your tenants are unhappy, your team is in reactive mode…
Share your comments.
#realestate #facilitymanagement #maintenance
June 1, 2021
Is your Facility Management (FM) Continuously Improving? 
Today FM embraces much more than plumbing and lighting, and even more than the maintenance of a productive and comfortable work environment. 
With facility managers devoting their attention to a very broad range of concerns including human resource management, real estate portfolio management, and quality management along with building maintenance. 
If FM is to contribute fully and its value recognized,  it has to do much more than making sure the Air Conditioners keep running?
At the heart of every organization is Continuous Improvement. Every organization is looking to improve whether it is customer satisfaction, better output, increased efficiency, reduced human errors. 
Within the framework, FM adds value to every aspect of an organization directly or indirectly. FM serves the organization's occupants as its clients. 
FM manages operations including energy auditing, upgrades, retrofits, refurbishments, housekeeping, security. 
FM is making use of technology to continuously improve proactive maintenance, employee performance.
What comes to your mind when you think of FM and continuous improvement? 
#realestate #facilitymanagement #maintenance