Gate Pass Management: Top 5 Best Practices
Gate pass management is at the forefront of a robust security system for your facility. Be it a residential society or corporate facility, an efficient gate pass system is crucial for a safe and secure environment. Your facility has occupants and many valuable assets. To ensure seamless visitor management and access control, you can't rely on manual gatekeeping. Be at ease, technology is here to aid human vigilance.
In this blog, we'll elucidate the working of a gate pass management system and the best practices to implement one. Without any further ado, let's get started!
What is Gate Pass Management System?
A GPMS is a software solution which helps you to monitor and manage the entry-exit of visitors at your facility. You'll able to optimize the entire security monitoring and control process using this technology. For a better understanding, we've covered the nuts and bolts of the system below. Scroll down!
How Does a Gate Pass Management System Work?
A visitor will first register their details (name, contact, Id proof etc.) with the GPMS. All this data is housed in GPMS central repository. You can easily retrieve and track visitor info based on time of entry, contact no. etc.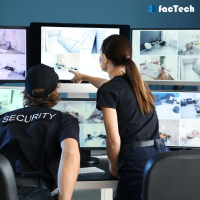 Furthermore, you can also generate a gate pass Id for the visitor. This credential will determine the level of access they have to different facility areas. But again, the features of a specific GPMS depend on your vendor and the type of facility.
Wait there's more! Your security team can track the visitor using the gate pass Id, CCTV cameras etc. GPMS will alert you in case of any security breaches. This ensures 24/7 surveillance and prompt action.
You can record every minute detail about the visitor's stay. Be it the duration or exit time, a gate pass management system bolsters and automates the security system.
However, you must conduct regular security inspections for aligning the software with your facility's emerging needs.
What are the Gate Pass Management System Best Practices?
Let's now move on to the best practices for implementing a GPMS at your facility.
1. Choose a Robust Gate Pass Management System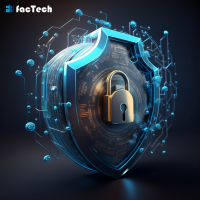 First and foremost, you must have a user-friendly and efficient GPMS. Your gate pass management system must comprise features like self-serve kiosks, real-time monitoring and alerts, reporting and analytics. You must ensure that your employees are trained enough to operate the GPMS. Let's understand self-serve kiosks as aforesaid.
Self Serve Kiosks in Gate Pass Management System
Self-serve kiosks in GPMS are the terminals from where your visitors can check in and out without any assistance from security personnel. These kiosks feature touchscreen panes for visitor registration and identification. Isn't that super convenient? Your visitors can also access navigation facilities from these terminals in addition to the identification badges. The integration of these kiosks with GPMS makes data collection and analysis a breeze!
2. Authenticate Using a Gate Pass ID/Photo Badge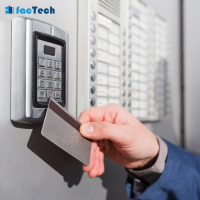 The authentication process of your GPMS must be reliable and suit the security needs of your facility. The software might require government IDs of visitors or scan biometrics. The unique identification ID is thereafter assigned to the individual.
Nowadays, photo-badging is very popular in further bolstering your building's security. These photo badges consist of a personnel photo, a company logo and a barcode. You have to just scan this badge to tell if it's your man!
Know more: Passcode entry for VMS( Recurring Pass)
3. Categorize the Access Levels using GPMS
Your facility might witness a galore of visitors in a day for different purposes. The employees, other officials, janitors etc. should have different access privileges. This called for categorization to simplify the check-in and out. To ensure a solid access control system, you'll have to segment the visitors as per the purpose of the visit and assign access to areas accordingly. A great deal of this is taken care of while issuing photo badges or gate pass IDs to individuals.
4. Ensure Visitor Check-Out Using GPMS
Just like the digital check-in, you must also ensure that visitors are diligently checked-out. This ensures that your security team has an up-to-date log of all the people within the facility. In case of any emergency, all the visitors and personnel within the premises can be accounted for. You'll thus be able to carry out evacuation effectively.
5. Enable Real-Time Alerts With Gate Pass Management System
Finally, you must also integrate your gate pass management system with CCTV cameras etc. This enables your security team to track visitor movements on the premises. Any unauthorized access can quickly be identified by real-time monitoring and alerts for security breaches.
Read more: How to Download Visitor Management System(VMS) Mobile App?
Summing It Up
In this blog, we emphasized the significance of a  gate pass management system. In addition, we also enumerated the top 5 best practices for your GPMS.
You have to first install a gate pass management system congruent with your business needs. Next, you must ensure that self-serve kiosks and authentication systems are well in place. What more? Well, it's important to regularly evaluate your facility's security needs and continuously improve the GPMS.
If you have any further queries, feel free to get in touch!
Contact us for a free demo of how our expertise can help you achieve your business goals to the best.