Housekeeping for Building Maintenance
Have you ever walked into a building and wondered how spotless it is? Housekeeping in facility maintenance is no easy feat.
Be it an office building, a hospital, or a shopping mall, keeping everything spick and span is crucial for the well-being of the occupants. Housekeeping might not be exciting but it's an indispensable part of facility management. In this blog, we'll take a closer look at housekeeping best practices for building maintenance. So, let's get started!
What's Housekeeping for Building Maintenance?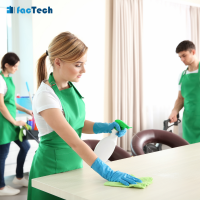 Housekeeping is the cleaning and upkeep of a building to maintain its appearance, safety, and functionality. This involves sweeping floors, dusting surfaces, emptying trash and recycling bins, cleaning restrooms, and maintaining HVAC systems among others.
Regular housekeeping prevents the build-up of dirt and debris. In addition to a clean and well-maintained building, housekeeping also creates a positive impression on occupants, visitors, and potential tenants.
Further, housekeeping tasks are performed either by in-house maintenance staff or outsourced to a professional cleaning company. The frequency and scope of these tasks vary as per the building size, type, purpose and number of occupants.
What are the Housekeeping Best Practices for Building Maintenance?
Now, let's catch a quick glimpse of housekeeping best practices for facility management.
Develop a Housekeeping Plan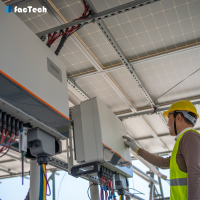 A comprehensive housekeeping plan takes into account factors such as the building size, layout, usage as well as the needs and preferences of its occupants.
Make sure that the plan includes a checklist of cleaning tasks for each area of the building. This can further be broken down into daily, weekly, monthly, and seasonal tasks. For instance, daily tasks: disinfecting surfaces, weekly tasks: vacuuming carpets, and monthly tasks: organizing storage areas. In addition, seasonal tasks may include pressure washing exterior surfaces etc.
You also need to outline the responsibilities of the cleaning staff and specify the cleaning products and equipment required for each task. It's important to use cleaning products that are safe and effective for the environment and the building occupants.
Does this job sound cumbersome? It indeed is! But with the right facility management software you can ensure the smooth running of day-to-day housekeeping.
The software helps to schedule cleaning tasks and send reminders to the cleaning staff. Furthermore, it also helps to track and optimize the inventory levels of the cleaning products.
Train Cleaning Staff on Housekeeping for Building Maintenance
The cleaning staff need training on properly using cleaning products and equipment. You must also see if they are well-versed in safety procedures and using personal protective equipment (PPE) when required.
Regular supervision and performance evaluations can help ensure that the cleaning staff follow the housekeeping plan and maintain quality standards. For this purpose, facility management software provides performance metrics and analytics, such as task completion rates, to help managers evaluate the overall effectiveness of the cleaning staff.
Implement a Waste Management System 
A waste management system should include designated areas for trash and recycling, as well as procedures for disposing of hazardous waste.
Use the software to allocate resources, such as labour and equipment for waste management tasks. You can use the centralized platform for managing waste-related tasks, such as emptying trash and recycling bins. Moreover, you can also assign tasks to appropriate staff members based on their availability and skills.
.Maintain the HVAC System in Housekeeping for Building Maintenance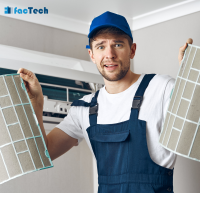 The heating, ventilation, and air conditioning (HVAC) system plays a critical role in maintaining indoor air quality and temperature control in the building. Regular maintenance of the HVAC system prevents the build-up of dust which is detrimental to the health of occupants.
The cleaning staff should regularly clean and replace the air filters in the HVAC system, and schedule regular maintenance and inspections by qualified HVAC technicians.
Use Green Cleaning Products in Housekeeping for Building Maintenance
Green cleaning products pose fewer health risks to occupants and cleaning staff than traditional cleaning products. They are also effective in removing dirt and stains from surfaces and areas of the building.
How can Facility Management Software Streamline Housekeeping for Building Maintenance?
Facility management software helps streamline the housekeeping process and improve the effectiveness and efficiency of building maintenance.
 Here are some benefits of using facility management software for housekeeping:
Centralized Task Management
Facility management software allows for centralized task management, which enables the cleaning staff to access the housekeeping plan, checklist, and schedule from a single platform.
This eliminates the need for paper-based checklists and communication and ensures that all cleaning tasks are completed on time and according to the plan.
Real-Time Monitoring and Reporting in Building Maintenance
Facility management software allows real-time monitoring and reporting of housekeeping activities. This provides visibility and accountability for the cleaning staff and building management.
Using this software, cleaning staff can report completed tasks, issues, and requests in real-time. This allows the building management team to track the progress of housekeeping activities and address any issues or concerns immediately.
Asset and Inventory Management in Building  Maintenance
Further, facility management software also assists with asset and inventory management. This includes tracking and managing cleaning products and equipment.
It allows the building management to monitor the usage and inventory levels of cleaning products and equipment and schedule maintenance and replacements as and when needed.
Predictive Maintenance in Housekeeping for Building Maintenance
The maintenance software uses real-time data and analytics to identify potential issues or failures before they occur. This allows building management to schedule preventative maintenance and avoid costly repairs or downtime.
Improved Communication and Collaboration
It provides a platform for requesting and tracking cleaning requests and issues, as well as for providing feedback and suggestions for improvement. This fosters a positive and collaborative environment and improves overall satisfaction and productivity.
Wrapping It Up
To sum up, effective housekeeping is essential for maintaining a safe, healthy, and aesthetically pleasing environment in a building. We can optimize the housekeeping process by implementing best practices like training the staff and using greener cleaning products.
The facility manager can now kick back and relax as facility management software can help streamline the housekeeping process by providing a centralized task management system. It enables real-time monitoring and reporting and improves communication between the managers and staff.
Contact us for a free demo of how our expertise can help you achieve your business goals to the best.