Hybrid Model in Facility Management
The COVID-19 impact prompted businesses to promote remote working. This change has now sparked the emergence of the hybrid workspace, where remote work and traditional office work coexist peacefully as businesses welcome back their workers.
According to research, most businesses will need to continue this trend of remote working when the epidemic fades. 58% of the workforce said they would work from home 8 or more days each month. A further examination of this transition finds that businesses only anticipate 9% of their workers to spend 100% of their time working from the office. These developments unmistakably demonstrate the need for firms to plan for both in-office and remote workers, as well as more flexible work arrangements where certain employees only visit the office when necessary.
Certain Factors to Consider for Hybrid Facility Management Technologies
Ratio of Facility Occupancy

Security of the Staff

Manage Space Specifically

Easily Accessible

Ecological Footprint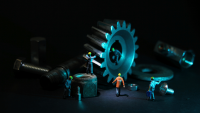 Issues with hybrid workplaces for facility managers
The hybrid work revolution has impacted facilities management in a variety of ways. The following three topics are crucial for facility managers to think about:
hybrid workplaces and utilities
The property manager has a great chance to be creative about how electricity and other forms of energy are used because offices and buildings typically have fewer inhabitants than before. Smart energy use should be prioritised. Motion sensors that conserve electricity are more useful than ever, especially in public or non-work spaces like stairwells, rarely used hallways, and restrooms.
Space Utilization and Hybrid Workplaces
Office buildings and other workspaces can no longer be viewed exclusively as places that are normally occupied to capacity and visited everyday as a result of the shift to hybrid work models. How spaces are utilised throughout a building must be a priority for the facilities department. To ensure that productivity is not adversely impacted, excessive "dead spots" or double bookings for work locations, such as meeting rooms, or for individual work stations, must be avoided at all costs.
Security in Buildings and Hybrid Workplaces
The transition to more flexible working arrangements has had an impact on other types of security as well, sometimes inadvertently. A hybrid workplace also means that there are more daily unknowns regarding who enters and exits buildings and office spaces. This could have detrimental effects on security. To guarantee stronger security, access control mechanisms may need to be added or reinforced. Other security measures can include mobile identity verification or biometric authentication, which can also be utilised to remotely protect data. It is obvious that facilities management will need to be engaged in many of these decisions as well as their execution.
In conclusion, the hybrid workplace will continue to exist. It is wise for the facilities manager to lead that significant transformation.
Contact us for a free demo of how our expertise can help you achieve your business goals.