Facility Management Services within Shopping Malls
Significance of Facility Management Services within Shopping Malls
There are certain requirements like efficient parking service or valet parking, better restrooms, nicely air-conditioned spaces, and many more of such things but these are not just some luxuries, these are basic needs that the consumers expect and which a mall cannot overlook.  In todays' time malls are not just about shopping but about giving a quality experience to the people- the customers. Shopping malls have to pay detailed attention to both, the basic amenities as well as the luxuries because this is what attracts customers and as a result of which the revenue of the mall increases.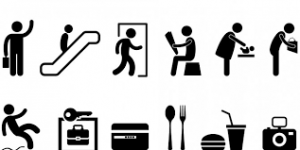 But this is not an easy task because it requires, paying a lot of detailed attention to a lot places at the same time, so therefore employing facility management services inside the malls becomes extremely important. Studies have even revealed that management and maintenance of communal facilities is the most crucial dimension with regard to the overall customer satisfaction; the condition of a washroom is another important dimension for customer satisfaction; communication efficiency and successful promotion events are also important for maintaining customer satisfaction. Facility management services take care of all the ins and outs of the mall which in turn not only attracts more customers but it also increases customer retention.
Facility management refers to the integration of people, place, process and technology in a building. Companies which offer facility management services provide specialized services to malls ranging from parking, security, to housekeeping and cash management and not only this, but they also take care of other logistics as well.
Facility management services can be classified as follows:
  1.Infrastructure Management                                                                                                                                                Under infrastructure management following services are offered:
(i) Air conditioning,
(ii) Provision of adequate power supply,
(iii) Safety issues related of signage,
(iv) Issues related to signage, water supply, sanitation, etc
(v) Water supplying and sanitation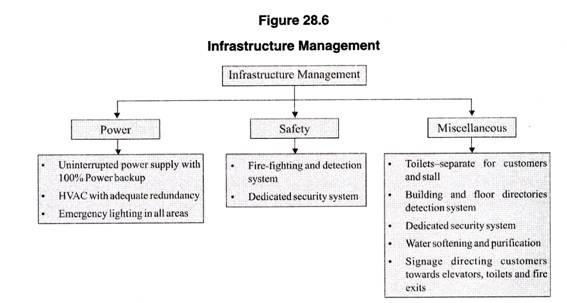 2. Ambience Management
        Under ambience management, following provisions/facilities are made:
(i) Management of parks
(ii) Management of fountains,
(iii) Taking care of staircases
(iv) Overall look of lifts and escalators
(v) Music and overall look of the mall.
3. Traffic Management
Traffic management is a key branch within logistics. It concerns the planning, control and purchasing of transport services needed to physically move vehicles and freight. Traffic Management can include: flagging, lane closures, detours, full freeway closures, pedestrian access, traffic plans, traffic management vehicles and sidewalk closures. It basically involves taking care of the parking services and everything related to it.
After get to know so much about facility management and its importance in shopping malls we can get an idea that how important it is for shopping malls to take use of facility management services. Another recent development for Facilities Management in shopping centers is the emphasis to involve FM's at the early stages of shopping center designs, including their construction. Therefore it is imperative for malls to soup up their facility management initiatives in a bid to offer niche and innovative experiences to their patrons.
Is there any better solution?
There are software solutions that help in managing facilities in the malls in a better way. like FACTECH AUTOMATION SOLUTIONS is a company which provides an advance system called KAIZAN, it contains different services and products to digitize your property and facility related operations.
KAIZEN
The ERP suite contains different services and products to digitize your property and facility related operations. KAIZEN is very advance system on top of IoT, AI and Machine learning which give you insights and trend analysis for better decision and control over your operations. KAIZEN empower your Site Manager for P&L tracking and control.