What and Why of CMMS / CAFM ?
Do the maintenance workers of your organization face a tough time determining which machines require maintenance and which storerooms contain the spare parts they need? Or do they find it hard to choose the better option between spending the funds on machine breakdown repairs and preventive maintenance of each equipment?
If your answer to these questions is yes, then I must mention here that the solution to these problems is none other than CMMS and CAFM.
To state broadly, CMMS and CAFM are the tools that help in the effective management of maintenance, inventory and labor.
What is CMMS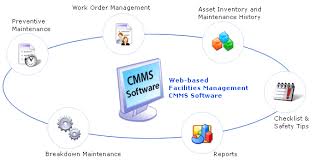 CMMS which stands for Computerized maintenance management system is a software package that is specifically designed to make the process of maintenance management easier. As the name suggests itself the maintenance data of your company is stored on a computer which makes it all the easier for the maintenance workers to keep records, to track completed and assigned tasks in a timely and cost-effective manner, et cetera. Basically, CMMS software is used for maintenance, for example, the user of this software can easily check which worker is free to fix the broken window, or when the next time and date for the routine checkup of a particular machine.
What is CAFM
CAFM which stands for Computer-aided facility management is a software that is used primarily to make the tasks of facility management efficient and easier with the help of information technology. Information is the core of CAFM. The one most important thing which differentiates it from the previous versions of facility management software is the use of (CAD) computer-aided design elements in CAFM. It includes space management, real estate planning, project management, building operations, preventive maintenance, and much more. Solutions provided by CAFM like digital images to provide a top-down view of assets are very user-friendly as they help the clients/users in real estate planning, space management et cetera.
ADVANTAGES OF CMMS:
Effective management of inventory. It helps to keep a detailed record of your inventory.

The CMMS software brings to your notice even the small repairs which might otherwise go unnoticed, it schedules the maintenance tasks effectively and efficiently to avoid the backlog of repairs and maintenance which might cost you a huge amount of money if they get out of control.

CMMS helps you in the efficient allocation of resources. It will bring to your notice in advance which department of your office is in dire need of inventory or which department has abundant, in this way it saves you a lot of expenses.

Less paperwork. Every small detail about your business is stored safely with the help of CMMS.
ADVANTAGES OF CAFM:
Reporting- Data collected with the help of CAFM not only helps facilities staff and management's needs, but it also proves helpful to the other stakeholders.

Benchmarking- It helps you to compare your facility management organization to the others in the market, which in turn helps you to improve your services.

Cheaper source of facility management.

Budget preparation and justification- By using the various tools of CAFM, facility managers are able to prepare the budget effectively.
If you are interested in learning more about Factech Automation Solution's  CMMS & CAFM software solution, visit Factech to request a demo.
Related Links