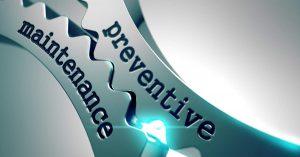 Before we jump into the discussion where we try to understand the importance of preventive maintenance and why do we need it, we should first take a quick glance as to what preventive maintenance actually is.

WHAT DO WE MEAN BY THE TERM 'PREVENTIVE MAINTENANCE'?
We all wish that the assets we employ at our home or in our business, work in a good condition for a long period of time without us spending huge amounts of money on them, i.e. we want something that helps us in extending the asset life, increase productivity, and ultimately decrease maintenance spending.
Guess what? 'Preventive Maintenance' is the ultimate solution for this'!
Simply put, preventive maintenance means taking regular care of the asset proactively rather than reacting and then taking the required measures after the damage has already been done, i.e. preventing problems before they occur.
Preventive Maintenance is conducted throughout an asset's normal operating cycle. Doing this unexpected breakdowns and their pricey consequences, such as unplanned downtime can be avoided.

-After getting to know the meaning of preventive maintenance we can already get a slightly clear understanding that how important preventive maintenance actually is.
But still, let's get to its depth.

WHY PREVENTIVE MAINTENANCE? WHY IS IT SO IMPORTANT?
If you wouldn't wait until you experience a sudden breakdown of your laptop to get it serviced periodically, then you already know the value of preventive maintenance.

The primary goal of a good preventive maintenance program is to establish consistent practices especially designed to improve the performance and safety of the asset at your property.

If we look from a business perspective then the best benefit an organization can get by practicing preventive maintenance is that it can reduce the overall cost and side by side help improve the processes and operation.

Here are some benefits of a successfully operated preventive maintenance program:
1. It helps to extend the asset life and increase the equipment's service time.
2. Reduce in sudden breakdowns of the equipment/machines.
3. Reduction in paperwork and manual data entry.
4. Enhanced productivity and efficiency
5. Improvement in safety and quality conditions for everyone working.
6. Reduction in overall maintenance costs.

If your organization or you personally are relying solely on reactive maintenance then you are not acting smartly and wisely because doing this, you are not only wasting your valuable time but you are also wasting a huge amount of your hard earned money every year on something that can be prevented by acting proactively, by having a consistent preventive maintenance plan.
To prevent a damage like this and to take good care of your assets and business all it requires is for you take up a good preventive maintenance plan form a facility management provider. Companies like Factech Automation Solutions PVT LTD provide India's #1 facility management solutions. iSocietyManager is the product of Factech Automation Solutions PVT LTD. It is easy and Fast society management software.