Why & What of Indoor Air Quality (IAQ)?
We spend most of our time in homes and offices. We live and work in these spaces. Don't you think the air should be breathable and pure in there? In this blog, we'll take through the what's and why's of indoor air quality. Be it the room temperature, humidity, air purity or ventilation, your building tech needs to account for all of that.
The indoor air quality determines your health and well-being. How can we control the quality of air? Well, all you have to do is embrace smart building technologies. Be at ease, as we'll talk about this. Let's get started but breathe first!
What is Indoor Air Quality (IAC)?
Indoor air quality (IAC) is the air quality within the spaces you occupy. It encompasses the air condition in and around your building. IAC has different dimensions including temperature, humidity, pollutants, ventilation etc.
Do you know what's the standard good air exchange? It's between 350 to 1000 ppm (parts per million). In simple words, it's a measure of the no.of milligrams of pollutants in one litre of air. These pollutants could be anything like volatile organic compounds, radon, CO or excess moisture.
You need to take care of your building's IAC as poor air quality can deteriorate occupant health. If they face symptoms like dry throat, dizziness, headache etc., it can be due to an unchecked building IAC. Now that we have discussed the what's of indoor air quality, let's move on to its very significance.
Why Do We Need to Improve Indoor Air Quality?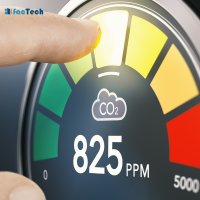 Improving IAC is an indispensable aspect of facility management. Since your occupants spend around 90% of their time indoors, you must ensure that the air is good.
As you might know, poor IAC can lead to various health dilemmas namely, asthma, allergies, nausea, headaches, fatigue, and respiratory allergies among others.
Have you heard about Sick Building Syndrome (SBS)? It refers to the situations of health discomfort that your occupants might experience while their time in your building. Now, this could be for a variety of reasons, one of which is contaminated air. In other words, IAC determines occupant comfort, satisfaction and retention.
Finally, your building materials, if toxic, can retrograde the quality of air. The paints and cleaning products might release certain VOCs and other particulate matter. You must now be interested in making the air breathable for all, aren't you? You got this as smart building tech is here to your respite!
What's the Role of Smart FM in Improving IAC?
Smart building technology integrates IoT sensors, data analytics, machine learning etc. transforming facilities management. In this section, we'll enumerate the ways you can leverage this software to ameliorate your indoor environs. Let's dive in!
1. Monitor Air Quality with Sensors
Using sensors, you can collect data on various IAC parameters like temperature, humidity, and CO/CO2 levels among others. You can further analyze and compare this data with IAC standards. In case of any deviations, you can take corrective measures and enforce a proactive approach.  This ensures that you take charge before IAC further deteriorates.
Read more: Why opt for IoT based BMS? 
2. Analyze Indoor Air Quality Data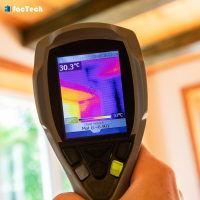 Smart building technology offers features like data analytics and reporting. As aforesaid, you can collect IAC data on ventilation, air purity etc. and further analyze it.
Such analysis will reveal significant patterns and trends in air quality in a span of time. Moreover, you can even compile current insights with past data. This helps to predict the challenges you'll face and ensure timely interventions.
3. Manage Ventilation for Better Indoor Air Quality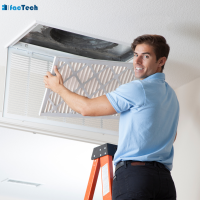 Ventilation/Airflow management is yet another aspect of  IAC. Smart building solutions help measure occupancy rates and adjust the ventilation accordingly.
Have you heard about smart HVAC systems? The V stands for ventilation which refers to the exchange of air in any space to provide high indoor air quality. This enables temperature control, removal of excess moisture and pollutants etc.
Read more: What is an HVAC System and What are its Parts?
IAC Control Key Challenges
To tap any opportunity, you have to overcome challenges. Smart building technologies help enhance indoor air quality, it's not devoid of challenges.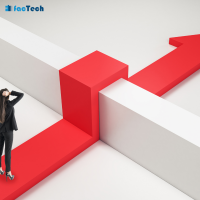 As you would agree, smart building technology involves significant upfront costs. The integration of new tech with existing building systems is complex and can be costly.
Installing the air purification, HVAC systems etc. might need substantial investments in the beginning but in the long run, you are going to benefit from it.
Even after you have installed the IAC enhancers, it can get challenging to identify the root cause of poor air quality- particulate matter, VOCs, and airtightness among others. Furthermore, HVAC and other sophisticated systems need regular maintenance, neglecting which can lead to poor performance.
Summing It Up
In this blog, we have elaborate on the significance of IAC in facility management. IAC refers to the quality of air in indoor spaces and depends on parameters like temperature, humidity, pollutants, ventilation etc. Smart building technology helps you monitor the CO2 levels, occupancy rates etc. and analyze this data for proactive corrective measures. Indoor air quality regulates the health of your occupants and therefore, can't be neglected. If you have any further queries, don't hesitate to leave a comment. Until next time!
Contact us for a free demo of how our expertise can help you achieve your business goals to the best.