5 Benefits of AI in Facility Management
Does the term AI ring a bell? Your mind must be flooded with pictures of robots taking down humanity. But artificial intelligence transcends beyond the comics, robots and ChatGPT. In the past few years, facility managers have benefitted from this technological upgrade in the built environment. AI in facility management has strategic importance for elevating the overall operational efficiency. How exactly?
In this blog, we'll explore five of the imperative benefits of AI in facility management. From predictive maintenance to sustainable buildings, we'll catch a quick glimpse of how you can harness artificial intelligence to make physical assets more efficient. Buckle up!
Top 5 Benefits of Artificial Intelligence in FM
#1 Be Proactive with AI in Facility Operations
You must have heard about predictive maintenance. If not, then here it is.
Predictive maintenance refers to the use of technology to analyze the equipment condition and predict the maintenance requirements. This prevents sudden breakdowns and related downtime.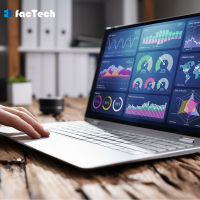 AI-driven predictive maintenance analyses equipment data to forecast maintenance needs. Therefore, AI helps you become proactive and service the assets required extending equipment lifespan.
Be it historical maintenance, equipment performance or sensor data, you can input it all into your AI-powered FM tool. Its predictive capability will then help schedule maintenance based on the patterns and anomalies detected.
Read More: What is Preventive Maintenance- Facility Technology
#2 Secure Your Assets with AI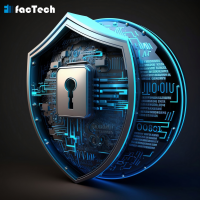 Your security staff are in for a treat. AI-powered surveillance systems and access control solutions bolster the security of your buildings. From anomaly detection to real-time alerts, AI in facility management ensures safer environments for tenants.
AI systems can recognize authorized personnel and automatically grant access. You can effortlessly keep track of the entry and exit times of the visitors. In case of security breaches, you get automatic alarms. There's more! artificial intelligence can also analyze environmental cues like gas leaks or changes in unusual changes in temperatures. Let's have a look at the next benefit.
Know More Here: Security Guard Tracking Software & Security Guard Patrol Software
#3 Optimize Spaces with AI in Facility Management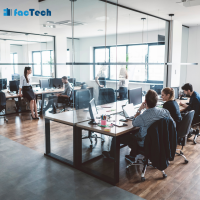 Next is space optimization. With AI-powered space management solutions, you can gain real-time insights into your facility's space utilization patterns and decide on space allocation accordingly.
You can use AI tools to analyze occupancy sensor data and identify the underutilized areas. You'll then be reconfiguring desk assignments and adjusting layouts. This improves occupant satisfaction and experience. Moreover, you're going to dodge additional leasing expenses effectively.
Scroll down for the 4th benefit of AI in facility management.
#4 Make Your Buildings Sustainable with AI
A sustainable building is one that improves the quality of life inside and around it due to its features. Yes, you're right. For sustainability, you'll have to work on energy efficiency. With AI in facility management, you can easily reduce your carbon footprint.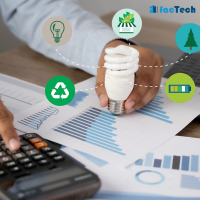 Artificial algorithms optimize HVAC systems based on occupancy rates, temperature etc. You can even automate lighting systems to cut back on energy expenses energy turning off lights in unoccupied areas.
Furthermore, you'll be able to continuously monitor the sustainability metrics of your building- carbon emissions, energy usage, water usage, and waste generated among others. Now, let's move on to the final benefit.
Read More: Role of digital facility management- Smart buildings, Green buildings, and Sustainable development.
#5 Save Big with AI in Facility Operations
Finally, artificial intelligence lets you save big on costs. We have already enumerated the benefits of AI in facility management above.
Predictive maintenance, enhanced security and energy management systems help you keep the expenses on repair and losses at bay. Facility managers can now allocate resources more strategically.
For instance, you can employ VAs (Virtual assistants) to handle routine service requests. This will lead to prompt replies to maintenance enquiries and other such requests. The facility staff no longer has to intervene in these tasks and focus on other work priorities.
Wait there's more! You can use AI in facility management to analyze historical data and unravel cost-saving opportunities.
Final Words
In essence, the integration of AI into facility management is revamping the way we maintain our buildings. From predictive maintenance to energy management, AI helps you enhance operational efficiency, automate tasks and save big on costs and time.
So what're you waiting for? You have the incredible opportunity to leverage AI to create smarter, more sustainable, and safer buildings for your occupants. As discussed, AI in facility management is of strategic importance for your business as it helps in efficient resource allocation and sustainability. Embrace it now to reap the benefits in the long run.
Contact us for a free demo of how our expertise can help you achieve your business goals to the best.