Best Smart Building Technology in 2023
Nowadays, the way we design and manage our buildings is rapidly transforming. The built environment is no longer just a conventional structure of bricks but an optimized experience for its occupants. Did you ask how? Well, smart building technology creates such an intelligent space through the integration of IoT sensors, data analytics and other advanced tech.
This innovative technology is revamping the very fabric of buildings and workplaces. You are in for enhanced comfort, operational efficiency and sustainability. Don't worry, we'll touch all these points in the next few sections. So, let's get started!
What's the Deal with Smart Building Technology?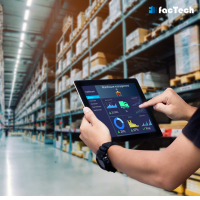 Smart building technology relies on IoT. It features an integration of hi-tech sensors and analytics for optimizing building operations.
We often use the term 'building automation' to describe smart buildings. Automation systems centralize and monitor various building components like HVAC, lighting, and access control among others. These systems aim to enhance occupant well-being while also improving operational efficiency. But smart buildings also contribute to a smarter and greener future.
You can optimize your buildings' energy consumption and manage waste better. Thanks to smart building technology!
We're here to answer a big question. How will smart building tech benefit your business and make it more sustainable? Let's see!
How'll  Smart Building Technology Benefit My Business?
Energy Management Systems (EMS) in Smart Buildings
Smart HVAC systems adjust room temperature as per occupancy minimizing energy wastage. In a similar vein, lighting systems automatically turn off and on as per the occupancy. Has energy saving looked this easy before? The outcome is of course low utility bills and big cost savings.
Read more here: Smart FM for Energy-Efficient Buildings
Predictive Maintenance with Smart Buildings
One of the prominent features of this technology is its robust data analytics capabilities. Sensors collecting equipment data can help you detect anomalous behaviour and trigger maintenance alerts. Also known as predictive maintenance, this approach aids in prompt issue addressal and timely resolution.
Discover more here: Establishing a Predictive Maintenance Software
Optimize Space Utilization in Smart Buildings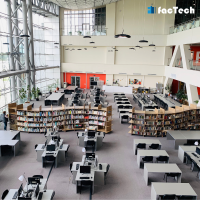 You can also use building automation to plan and optimize space utilization. Occupancy sensors will collect data that you can further use to a comprehensive understanding of how spaces are utilized throughout the day.
Let's say certain rooms are underutilized at your workplace. You can then think of repurposing them to ensure efficient resource utilisation. You can thus, eliminate redundant square footage and save costs.
Smart HVAC and Lighting Control
Smart building technology makes use of sensors and IoT devices to detect occupancy and environmental conditions in real time. It then uses this data to adjust the temperature, ventilation and lighting.
We have already discussed how a room can light up in the presence of your team and the airflow adjusts itself.
Know more: What is an HVAC System and What are its Parts?
Enhance Employee Experience with Smart Building Technology
This is perhaps the greatest benefit of all. Smart buildings are adept at enhancing employee well-being. Did you ask how?
For instance, smart building technology can integrate with mobile apps. This'll allow occupants to control room bookings, lighting, and temperature on the go. Such customization ensures a seamless experience and interactivity with the built environment.
How'll  Smart Building Technology Benefit the Environment?
Reduce Carbon Footprint with Smart Building Technology
Smart facility management helps reduce the carbon footprint of buildings. The process is simple. You have to watch out for energy saving and waste generation. Take it easy, this building automation is intelligent enough to reduce GHG emissions. Wondering how? Scroll down!
1. Energy Saving in a Smart Building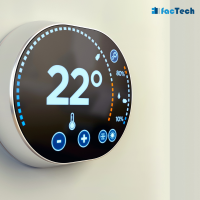 We have already elaborated on energy management systems. Smart building technology automatically adjusts energy consumption levels as per occupancy and ambience. This ensures that energy is used only when needed. This reduction in electricity consumption abates CO2 emissions.
2. Waste Management in a Smart Building
Smart Building systems monitor waste levels, streamline collection routes, and promote recycling. Yes, you got your hygiene saviour right here! You can now efficiently maintain a clean environment and also promote a greener future with smart disposal techniques.
Leverage Renewable Energy with Smart Building Technology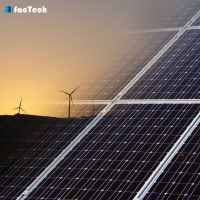 Another smart feature is integration with renewable energy systems like solar panels, wind turbines etc. This eradicates our dependence on coal or natural gas. You can consider diversifying the energy mix with the aforesaid greener alternatives to promote sustainability.
The integration of renewable energy sources in smart buildings not only reduces reliance on fossil fuels but also promotes a more sustainable and resilient energy infrastructure. By harnessing clean energy, smart buildings contribute to global efforts in mitigating climate change and advancing a greener future.
The Bottom Line
In this blog, we discussed the manifold benefits of smart building technology. This tech consists of IoT sensors and connectivity, building automation systems (BAS), intelligent HVAC controls and energy management systems (EMS).
Smart building technology not only benefits your business but also helps mitigate your buildings' environmental impact. You can reduce your carbon footprint through integration with renewable energy sources and efficient waste management.
There's a myriad of smart FM software in the market. You have to make the decision on the basis of your business' size, occupancy levels, budget and other unique requirements. If you have any queries, feel free to get in touch!
Related Links
Smart FM for Energy-Efficient Buildings
Contact us for a free demo of how our expertise can help you achieve your business goals to the best.