Best Integrated Workplace Management System in India
What does your dream workplace look like? Does it include hassle-free coordination of workflows and an optimized employee experience? This is no longer a dream with the advent of integrated workplace management system software.
Like the bunch, your company must also be challenged by efficient workplace management. We feel you. As a facility manager, overseeing space utilization, asset maintenance, legal compliance, and whatnot must be overwhelming!
Take it easy as IWMS software is here, wearing a cape. It is an innovative technology that effortlessly integrates all the above elements into one centralized platform. Are you intrigued? Hold it as we're going to delve deeper in the next sections!
Integrated Workplace Management System Software
Wikipedia defines IWMS as an ultimate digital solution for any company seeking to manage its workplace resources. This includes infrastructure, real estate portfolio and facilities management among others. We have discussed all these features in the next few sections. Scroll down!
This software integrates all aspects of workplace management into a single platform. Integrated workplace management system automates space, real estate, assets, and maintenance management among others.
Now, let's catch a glimpse of its manifold features.
Features of Integrated Workplace Management Software (IWMS)
1. Asset Management in IWMS:
An integrated workplace management system helps you to track and maintain assets throughout their lifecycle. It automates maintenance schedules, tracks repair history, and ensures regulatory compliance. Therefore, reducing downtime and extending asset lifespan.
2. Space Optimization in IWMS: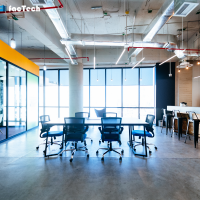 Another feature of IWMS software is optimizing space utilization. You can easily visualize floor plans and track occupancy rates of different areas. This helps in identifying opportunities to rearrange the existing space utilization plans. And the best part is perhaps its robust ability to streamline planning office moves.
3. Real Estate Portfolio Management in IWMS:
Does your business have multiple outlets? IWMS is still the key to unlocking efficient workplace management. It centralizes lease info and helps you with the strategic planning for real estate acquisitions and disposals. You can avail features like automatic contract administration among many others and align your portfolio with business objectives.
4. Integration of Workplace Services in IWMS:
Enough about assets and real estate! Workplace management also encompasses other services aimed at improving employee experience. To facilitate this, an integrated workplace management system offers employee self-service portals, service request management, etc. Such features boost employee productivity and engagement.
5. Integration of Diverse Business Systems  in IWMS: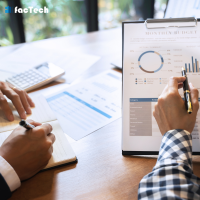 Wait there's more! IWMS software also integrates with enterprise resource planning (ERP), human resources (HR), and customer relationship management (CRM) platforms. Yes, that's right!  Data sharing and streamlined workflows are now a breeze. With such a cross-functional collaboration, HR managers can update employee info which will help in space optimization and ERP.
5

. Data Privacy and Protection in IWMS:
When this software is going to house employee and business process information, one can't neglect data protection. Using IWMS, you can implement user access controls and encryption protocols to safeguard such sensitive data. Moreover, routine data backups prevent data loss. IWMS got it all!
5. Data Analytics in IWMS: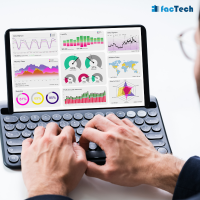 An integrated workplace management system comes with data analytics features. You can gain actionable insights into your workplace operations. You can easily leverage customizable dashboards and report generation, you can get a snapshot of occupancy rates, energy consumption, maintenance costs and other metrics.
We won't keep you wondering about the lucrative benefits of IWMS software. Here you go!
Top 5 Benefits of Integrated Workplace Management System Software
1. Mobile Access – Anytime, Anywhere with IWMS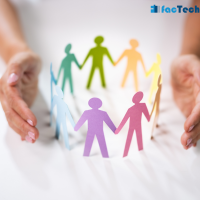 Most of the IWMS solutions offer mobile apps that enable you to access info, make requests, and collaborate with teams from anywhere anytime. Such flexibility ensures seamless communication and encourages employees to actively participate in workplace management processes.
2. Scale it up with Integrated Workplace Management System
IWMS software solutions are often scalable. Be a startup or an MNC, You can easily customize the software to accommodate your company's unique requirements and processes. IWMS software grows with your organization. You can configure the workflows and reporting methods as per the expansion plans of your company.
3. Operational Efficiency and Cost Savings with IWMS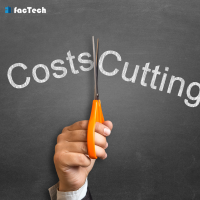 With an integrated workplace management system, you can make data-driven decisions and optimize resource allocation. We have already discussed space utilization, asset maintenance and several other features. These features help you achieve significant cost savings. You can cut down on maintenance expenses and identify process improvement opportunities.
3. Make Strategic Decisions with IWMS
With the data analytics feature, making strategic decisions is definitely a benefit. IWMS software insights into equipment performance, energy consumption and many other metrics. Such real-time information is the key driver of strategic plans and workplace management strategies.
4. Be Sustainable with Integrated Workplace Management Software
Sustainability is at the forefront of organizations. Add to your sustainability efforts by tracking energy consumption rates, waste generation, and carbon emissions. You can monitor and reduce the impact of your built environment using IWMS.
5. Collaborate in Real Time with IWMS
Integrated workplace management software fosters collaboration through efficient document sharing, task assignment, status updates etc. The software helps promote transparency and accountability among team members.
The Bottom Line
In this blog, we took you through the features and benefits of an integrated workplace management system software. This breakthrough technology helps you integrate and effectively manage workplace assets, space, energy consumption, and team workflows and enhances the overall employee experience. If you have any further queries, you can hover over to the FAQs or leave a comment.
FAQs on IWMS in Facility Management
1. What is Integrated Workplace Management System Software?
IWMS is a centralized platform that houses all the info on your workplace operations. Be it real estate portfolio, asset maintenance, team workflows or legal documents, IWMS is a comprehensive solution to upgrade workplace management.
2. What is IWMS in Facility Management?
IWMS refers to Integrated Workplace Management System that plays a pivotal role in facility management. It helps in optimum resource allocation, asset maintenance, service request and vendor management among others.
3. What are the features of the Integrated Workplace Management System?
IWMS helps in vendor and contract management, space optimization, asset management, real estate portfolio management, reporting and analytics etc.
Related Links
Achieving Operational Efficiency through CMMS
Digital FM Impact on Employees 
How to assign Work Order/ Schedules to Team in Kaizen CAFM
Contact us for a free demo of how our expertise can help you achieve your business goals to the best.