What is Sustainable Building?
Are we achieving Sustainable Building goals?
Sustainable growth implies that things keep going and can sustain themselves, continue into the future, and go on forever. Sustainability for our planet means that it can continue to do what it was designed to do, i.e. provide fresh air, clean water, produce food and allow us all to lead a high-quality life forever. Un-sustainability means that it cannot and that is where we all are today.
What process we use to construct and maintain buildings are an opportunity to not only save energy, water, and carbon emissions but to educate, create jobs, strengthen communities, improve health and wellbeing, and much, much more. Green sustainable building is a true catalyst for addressing some of the world's most pressing issues. Green building can contribute towards meeting SDGs.
How green buildings can contribute to meeting SDGs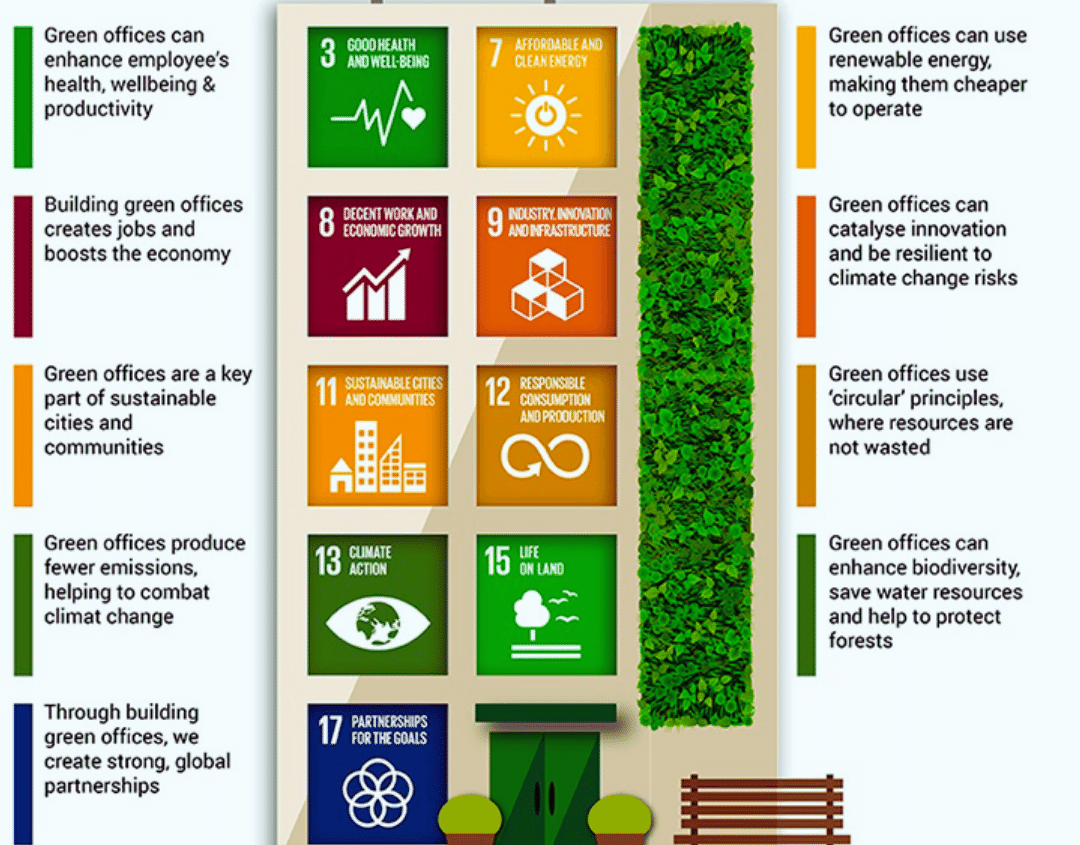 Role of CMMS in Promoting Sustainable Assets and Operations
Not only do commercial buildings consume two-thirds of all electrical energy each year, but collectively they top transportation as the biggest user of all energy.
---
30 percent of energy in buildings is wasted, except when facilities managers use data to make smart decisions and facilities' energy use drops 17 percent.
---
SaaS-based CMMS or CAFM along with IoT help in making data-driven decisions and:
1. Reduction in use of resources
By outsourcing hardware to a cloud host, a company significantly reduces its capital expense for computer hardware. In a (SaaS) model,
There is no upfront cost. You should just pay a subscription fee. As for the carbon footprint of SaaS, the need to house a cluster of computers in a hermetically sealed chamber somewhere on-premise is eliminated along with energy demand for computer functions, air conditioning, and lighting.

Also, the data center of any SaaS – with its economies of scale and cutting-edge hardware deployment – can more efficiently house, run and maintain operational hardware, further reducing the carbon footprint. Subscribing to a service-model CMMS to manage BIoT data saves money – and energy.

Well-maintained assets and facilities use less energy and utilities – electricity, natural gas, water, and otherwise. Every little bit of power we don't have to take from this planet helps us on our journey to sustainability.
2. Smarter, healthier, and efficient facilities
IoT begins turning data into knowledge, Buildings become self-aware and tell us when we are off track. Data makes machines smarter to their own upkeep and streamlines maintenance team performance, both of which in turn consume fewer resources. That's sustainability.  With IoT, smart building systems utilize real-time data received from sensory devices to initiate system operations and satisfy peak performance requirements or meet comfort criteria for occupants.
Facilities greatly benefit from a proactive maintenance culture – even beyond the energy and management. Not only does this help control deferred maintenance, protect facility-related assets such as HVAC systems, It can also help to achieve Energy Star Certification.
3. Efficient assets creating quality products
These preventively-maintained assets will have better quality products and create less scrap and rework which will create less waste.
4. Improve lean operations
IoT-connected sensors within our facilities and assets help catch problems early – way before waiting for more obvious, visible signs of distress. Anytime we can use technology to streamline maintenance operations and shorten repair alerts with /quicker response we get longer-lasting and better-performing assets.
Facilities operations digitization is a long process and involves many stakeholders. If you are starting digitizing your facilities' operations and maintenance – good to start with Phase wise implementation.
👉 Phase 1 ( Go Digital): Go completely digital – paperless operations
👉 Phase 2 (Real-time Monitoring): Sort out critical assets ( 10- 15 %) and make these monitoring online through IoT, Sensors
👉 Phase 3 ( Predictive Maintenance): Put rules, intelligence to move to prescriptive maintenance. AI, ML role increases here for data-driven decisions.
✅ It's important to move to Phase 2 and then Phase 3 to reap the benefits completely and achieve sustainable building objectives, but Phase 1 is base and mandatory for the success of Sustainable Buildings. ✅
References
https://www.un.org/sustainabledevelopment/sustainable-development-goals/ 
https://gosmartbricks.com/sustainable-development-goals-6-ways-green-buildings-can-help-in-achieving-it/