HVAC Preventive Maintenance & Energy Efficiency
In this age of climate change, energy efficiency for businesses is of strategic importance for sustainability. While there are a number of ways to achieve this, our approach to HVAC is more crucial than ever. As you might agree, HVAC systems ensure indoor comfort through heating, ventilation and air conditioning. However, such comfort can cost you dearly with voracious energy consumption. Be at ease, HVAC preventive maintenance has your back!
In this blog, we'll catch a glimpse of how HVAC preventive maintenance can lead to reduced energy consumption. You can, therefore, expect financial savings and an environmentally conscious way of doing business. Let's get started!
What's HVAC Preventive Maintenance?
HVAC systems like all other systems in your building need regular maintenance checks. As aforesaid, if left unchecked your comfort can cost you dearly. Let's first understand what exactly this preventive maintenance entails.
Preventive maintenance refers to performing scheduled maintenance checks on assets and equipment to dodge any surprise breakdowns and downtimes. It's a proactive approach that helps save repair costs and extends asset lifespan as well. The aim of HVAC preventive maintenance is to keep the system running come rain or shine with no major disruptions. The question is how should we go about it? Well, we would advise you to keep your HVAC maintenance checklist intact. HVAC preventive maintenance involves scheduled inspections, cleanings, and adjustments to the system.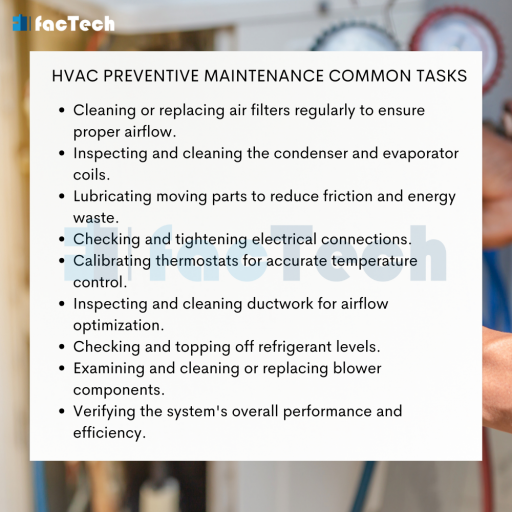 Related Read: Preventive Maintenance Checklist
Now that we're done with the basics, let's read further on the practical benefits of HVAC preventive maintenance.
How can You Save Energy with HVAC Preventive Maintenance?
#1 Clean the Condenser Coil to Improve HVAC Efficiency
Did you know that a dirty coil can reduce the HVAC efficiency by 30%? The dirt insulates the coil making the release of heat a challenge. HVAC preventive maintenance includes cleaning the condenser coil. In other words, your team needs to remove all the dirt and debris from the coil to ensure its proper functioning. The outcome is efficient cooling and less strain on the system.
#2 Replace the Air Filter to Maintain IAQ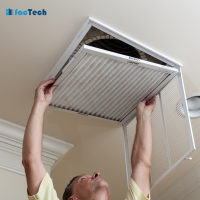 Next is replacing the air filter to enhance IAQ and HVAC efficiency. As you are aware, air filters become clogged with all types of dust and dander in the world. It becomes a real task for the HVAC to circulate fresh air due to such restraint on airflow. As a facility manager, you must make sure that the air filter is inspected well and replaced every 1-3 months. With a clean filter, the strain on the system is less preventing any energy wastage.
#3 Seal Air Leaks to Prevent Energy Waste
Your HVAC system runs longer with much strain to maintain the specified temperature in case of air leaks. This inevitably leads to higher energy consumption. How can you prevent this? Well, it's pretty simple. You have to seal any leaks around the system's ducts and vents. Your maintenance team should inspect the ducts painstakingly and identify any cracks or disconnections. Next comes the sealing job. It's necessary to ensure that conditioned air remains inside the ducts and is effectively delivered to the living or working areas.
#4 Check the Thermostat to Save Energy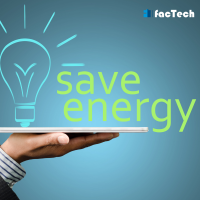 The thermostat, if not properly calibrated, results in overheating or the other way around. Preventive maintenance also involves calibrating the thermostat to ensure the accurate reflection of indoor temperature. Your HVAC system cycles off and on as and when needed, maintaining consistent room temperature. This ultimately leads to a lesser load on your energy bills.
Benefits of HVAC Preventive Maintenance
a) Save Costs
Guess what'll happen without proactive maintenance of building systems? The teensiest of issues in the HAVC system can escalate to major problems if left unchecked over time. You'll have to bear heavy repair/replacement costs. A smarter approach would be to address the issues beforehand through scheduled inspection and maintenance.
Related Read:Save 40% on Asset Maintenance Costs
b) Improve Indoor Air Quality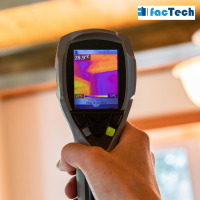 As aforesaid, dust accumulates in the HVAC ductwork. This leads to poor air quality and potential respiratory issues among occupants. Moreover, inefficient HVAC systems also struggle to adequately filter and circulate air, exacerbating these problems. Regular preventive maintenance includes cleaning and inspecting components like air filters, ducts, and coils.
Know more: Why & What of Indoor Air Quality (IAQ)?
c) Extend the HVAC System's Lifespan
Installing HVAC systems is a substantial system. If you have a reactive approach towards maintenance, the systems can break down easily leading to surprise disruptions to your business. By addressing minor issues before they escalate, preventive maintenance extends the lifespan of your HVAC equipment. This not only saves you money in the long run but also reduces the environmental impact associated with manufacturing and disposing of HVAC units.
d) Comply with Manufacturer's Warranty 
You can check with your manufacturer to know their recommended maintenance schedules. Oftentimes, non-adherence to these schedules can render your warranty papers void. As a consequence, you'll have to shoulder the full financial burden of any repairs or replacements.
The Bottom Line
Wrapping it up, HVAC preventive maintenance works like magic in reducing your energy consumption. Investing in proactive maintenance helps you lower your utility bills, extend your HVAC system lifespan, and improve IAQ. HVAC system is a heavy investment and you must ensure that it doesn't break down all of a sudden or work inefficiently costing you more. Preventive maintenance is therefore a proactive, cost-efficient and environmentally responsible method to keep your building systems running efficiently.
Contact us for a free demo of how our expertise can help you achieve your business goals to the best.