Why Procurement Software is Required?
As you might know, procurement is about acquiring goods and services. Is it? It's also about strategic resource management, cost optimization, regulatory compliance and a myriad of other functions. In this blog, we'll take you through 5 of the most compelling reasons for procurement software.
Procurement software is transforming the way companies source and manage their resources. With increasing digitization, businesses across the globe are looking for robust procurement solutions for process transparency, cost and operational efficiency. So, let's explore further!
What is a Procurement Software?
Procurement software is business software which helps streamline and automate purchasing processes for organizations (Wikipedia).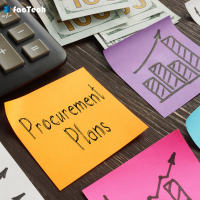 Let's understand this. This software provides a centralized platform to manage every aspect of the procurement lifecycle. From need identification to invoicing and payments, it's an indispensable tool for businesses. Using this solution, you can simplify supplier selection, approve purchases, track costs and gain real-time insights into the entire process.
There's a plethora of options out there. Your choice of software may be driven by the strengths of each individual system and the number of vendors available through them. Hold on! Should you be investing in one for your business? To help you answer this, we've enumerated the top 5 benefits of a digital procurement system. Hop on!
Top 5 Benefits of Procurement Software
#1 Save Big on Procurement Time and Costs 
The procurement process consists of multiple steps- need identification, sourcing suppliers, contract negotiation, delivery tracking and so on.
If you do all this manually, it can lead to delays and other inefficiencies. No worries, procurement software has your back. Moreover, it also helps you to gain real-time visibility into spending patterns and budget allocation. You can easily track prices and tap bulk purchasing opportunities among others.
#2 Manage and Collaborate with Suppliers Like Never Before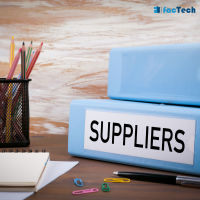 Next is the ease of supplier management and collaboration. You get access to a number of tools to evaluate supplier performance, track deliveries, and monitor quality among other such metrics. Such a pool of data helps you spot the scope for renegotiations.
Furthermore, you can exchange documents, process updates, order status, issue resolution etc. in real-time using this digital solution. Such enhanced communication helps strengthen supplier relationships and procurement efficiency.
Know more: How to create document type category?
#3 Access From Anywhere, Anytime Using Procurement Software
In today's digital era, you have access to information at all times, don't you? Procurement software gives you real-time access to the data from anywhere at all times.
Check with your vendor to ensure that the software comes with mobile apps or cloud platforms. This allows you to submit purchase requests, approve orders, and access procurement information from any device.
Moreover, suppliers can also benefit from such flexibility. They can easily update order statuses, submit invoices, and communicate seamlessly with the procurement team.
More like this: Why FM Digital Transformation is Required?
#4 Streamline Procurement Workflows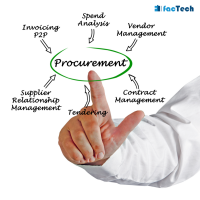 As discussed in the preceding sections, manual approval workflows are sluggish and error-prone. To remedy this, you can install procurement software and automate approval workflows. This means everything from a review of the purchase requests to invoicing happens electronically.
Get this- when you record each step of the approval process and document it within the software, you're making the audit easy. Such transparency fosters a culture of accountability and compliance with procurement policies. There's more! These workflows are customizable. You can easily align them with your company's unique needs and objectives.
#5 Leverage Analytical Tools 
Last but not least, a digital procurement solution offers robust reporting and analytics capabilities. You can easily track the key performance indicators like cost savings, supplier performance, procurement cycle times, and inventory turnover rates among others to gauge the overall efficiency.
The software helps you to visualize these metrics on real-time dashboards. Moreover, you can even customize such reports as per the objectives. For instance, you can configure the report to focus on on-time deliveries, supplier quality etc. or modify it to summarize spending patterns and budget compliance.
Analytics and reporting is indeed the highlight of procurement software. It helps you make decisions proactively. How exactly? Well, you can assess the supplier performance metrics like delivery reliability, quality and contractual compliance to decide about the supplier relationships.
Related Read: SaaS for Facility Management: Top 10 Benefits
Wrapping It Up
In essence, procurement software's ability to automate and optimize the procurement lifecycle has made it a strategic tool for enhancing business efficiency. Technology is ever-evolving and we are here to witness AI-driven analytics and predictive modelling features to be integrated well into the procurement software. It'll continue to bolster supplier management, risk mitigation and global supply chain optimization. We'll wrap it here for now. If you have any queries, feel free to drop a line.
Contact us for a free demo of how our expertise can help you achieve your business goals to the best.