Why FM Digital Transformation is Required?
How can facility management be untouched when technology is transforming our everyday lives? FM is the cornerstone of a building's infrastructure. In this day and age, the demands of people, spaces and businesses are on rapid strides, traditional FM can't keep up any longer. This is precisely why FM digital transformation is needed.
In this blog, we'll emphasize the need for FM digital transformation. Let's get started!
What is FM Digital Transformation?
Digital FM is simply the use of tech to streamline facility management processes. It encompasses the use of software, IoT devices, sensors, data analytics & reporting, AI and other cutting-edge digital solutions. FM digital transformation enables data visibility & analytics as well as enhances operational efficiency.
Centralized data management, preventative maintenance, and enhanced occupant comfort are some of the prominent benefits of digital FM. In the succeeding sections, we'll catch a glimpse of the revolution that digital FM has stirred in facilities. Buckle up!
Traditional FM in a Slump: Digital Transformation's the Solution
Traditional facility management involves heaps of paper and a chaotic maintenance team. Did you picture that right? For realizing the importance of FM digital transformation, we need to talk a bit about our old and not-so-golden ways of managing facilities.
Digital FM Solves Data Silos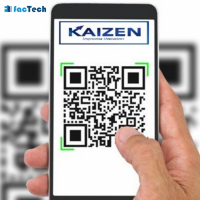 Data silos occur when information held by one team isn't shared with others. Traditional FM stores maintenance data in isolated systems. Due to a lack of software, there's no centralized database.
If you store data in such a fragmented fashion, the consequence will be data silos. Collaboration and resource allocation will go haywire as data sharing becomes increasingly challenging.
With FM digital transformation, you can easily source data from different teams into a single database and update it periodically. Such a relief!
Prevent Reactive Maintenance with Digital Facility Management
Reactive maintenance is commonplace in traditional facility management. Such type of maintenance is where action's taken only after equipment failure. You must be thinking of the increased repair costs and disruption to productivity.
Contrary to this, digital FM enables preventive maintenance. It leverages IoT sensors and data analytics for a proactive approach.
Read more: What is Preventive Maintenance- Facility Technology
Digital FM and Extensive Real-time Insights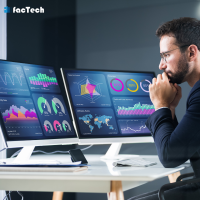 Manual data collection makes real-time insights next to impossible. You might miss optimization and cost-saving opportunities due to a lack of real-time reports.
To our respite, FM digital transformation has paved the way for the integration of IoT sensors and data analytics with facility management. From equipment status to team progress, all crucial information will now be at your fingertips. Let's move on to the next challenge that digital FM solves.
Read more: How to populate Asset Performance Charts in real time?
FM Digital Transformation Solves Operational Efficiencies
Using digital tools, you can improve the operational agility of your workspace. Digital FM software will help you keep track of energy consumption, occupancy rates etc.
Such data is pivotal to shaping space utilization plans in a building. As you would agree, traditional FM leads to inefficient use of resources and underutilized areas. This significantly impacts your operational costs.
Furthermore, digital FM allows you to remotely monitor your equipment saving time and cost. Teams can also collaborate seamlessly with real-time notifications, document sharing, progress tracking and other such features.
Read more: How optimizing Asset operations can save you huge costs?
Digital FM and a Sustainable Future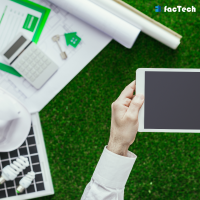 Sustainability awareness in the built environment is at an all-time high. Businesses are on a spree to reduce their carbon footprint. FM digital transformation makes this pursuit of sustainable practices easier. As discussed in the preceding sections, digital FM is the adoption of smart building technology.
IoT sensors and BMS among others enable you to keep track of energy consumption levels, indoor air quality and waste generation rates. Furthermore, you can integrate renewable energy sources like solar panels and wind turbines into the digital systems for switching to clean energy.
Discover more: Best Smart Building Technology in 2023
FM Digital Transformation: Challenges To Overcome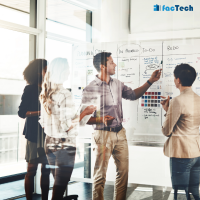 We have discussed the significance of digital FM and why you should adopt it for your building. As a facility manager, you might face some challenges in this transformation but underneath lies a greater opportunity.
You might face resistance to change from your stakeholders. This can be due to several factors- exorbitant costs, complexity of implementation etc.
Moreover, data privacy and employee training can be obstacles in the way too. We don't want to intimidate you! You can easily overcome these challenges through strategic planning and emphasizing the long-term benefits like cost savings and improved efficiency.
The Bottom Line
In this blog, we shed light on the importance of incorporating digital FM tools in your building maintenance practices. The demands of modern businesses and the ever-evolving technological landscape are hard to keep up with. It's prime time to embrace FM digital transformation and enhance the operational agility of your buildings.
We also hinted that such transformation is not devoid of challenges. But these can be overcome through strong leadership and strategic planning. With the right FM software, you can take infrastructure management to new heights while cutting back on operational costs. If you have any further queries, feel free to reach out!
Related Links
Air India Tata Office Facility Management
Ambience give order to Factech for their Malls
Trehan Iris trust Factech for Digital Transformation
Suncity order Factech to automate facility management, maintenance & inventory
Contact us for a free demo of how our expertise can help you achieve your business goals to the best.