5 functions of scannable codes in digital facility management
How to make the facility system easy, contactless, and more modular?
The answer is not very far or complicated… but easy and accessible. The scannable codes save the day in most areas.
Scannable codes can be QR codes or bar codes based on the requirement.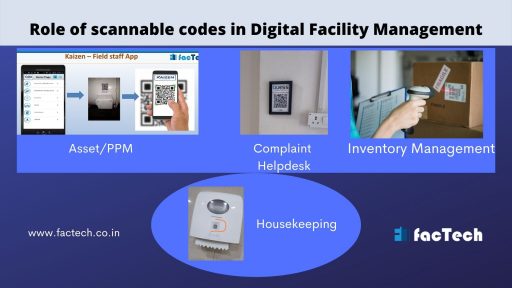 Here, we will discuss some scenarios where codes really add value to the operations:
Asset Tagging: Instead of entering some serial number of the asset whenever we need information or do some maintenance, we simply need to use a code pasted on the asset. Just scan the code from the mobile and see all the details like maintenance history, date of installation, current instructions, etc. Register an asset into the system and a good CAFM system will instantly generate a code tagging that asset. Take a print and stick. That's it.

Inventory management: It becomes miserable to keep track of stock, allot or receive some items, etc. Simply get the bar codes bearing the information of quantity, date, batch number, and more. In this way, tracking becomes foolproof, assign/receive becomes fast and flawless. On top of it, this system reduces errors dramatically.

Complaint registration: When you have to call the helpdesk it takes some effort and time. Instead, location-wise QR codes can be fixed and you have to scan the code. On your own device select the category of the complaint, take a photo, and click "GO". The service request is created. Check status, communicate or update just by scanning the code again.

Housekeeping and cleaning: No more cleaning schedule paper sheets in washrooms. Tag washrooms, corridors, cafeterias, lift lobbies, office areas, etc. with codes. Attach schedules and checklists for normal cleaning, inspections, deep cleaning, and more. The staff persons will be assigned the tasks in their app. They have to scan the codes and start filling the instructions in their device, take pre and post-work photos, and submit them. This leads to an evidence-based system with easy tracking and management.

 Visitor management: In a contactless VMS system a code is fixed at the gate and the reception in place of a receptionist doing the entry on her device or a tab put on a podium for self-registration. Every visitor scans that code and a UI opens on his mobile device asking for his details. He fills in his details, takes a photo with the front camera, and submits the entry. Once his visit is approved, a small printer prints his pass again with a code. At the entry, a guard scans his passcode and directs him to the desired location.
There are lot more use-cases possible that can make the FM operations easy and scalable at a very less cost.
In Factech's Kaizen CAFM system along with these main scannable codes functions many more new and innovative use-cases are available.
Click here to know more.