QR based contactless complaint System
Complaint System For Corporate Buildings
Contactless is the new normal after COVID-19 in facility management.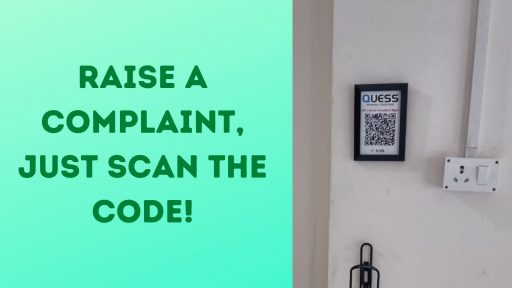 Gone are the days when employees had to make calls to register their complaints and then call again to check the status.
Here are some drawbacks of the traditional complaint management systems:
Waiting on the call is a bad experience on the part of employees. Who would want to spend 2-3 minutes every time they register a complaint or try to get an update. This of course comes at the cost of productivity.

Listening to the IVR menu is again not an enjoyable thing for sure. It asks for patience and time from the employees when the same thing could be done at the click of a button. 

Assigning complaints manually is a cumbersome task and even more difficult to track. The situation often becomes chaotic when the service desk has to create a bridge between complainants and staff- getting updates from one and passing them to another and vice versa.

Communication is the key to customer experience. If your team has to call every time to address a query regarding a complaint, give a reply, etc. then at a large scale things become mismanaged often. 

Finally, if a smooth and easy system is not there to register complaints then there is a great possibility that many non-critical complaints go unregistered. Consider a scenario where the cafeteria gets dirty due to some reason. Now, this is not a situation like an air conditioning breakdown or an electricity cut. Most people will not raise a complaint about this until it is very easy and less time-taking. In this case, till the time a housekeeping guy by change notices the dirt, it will remain and keep creating a bad experience for users and tarnishing the image of the facility team. 
To overcome the above challenges, it becomes very important to go digital, and that too with much ease and practicality. Factech CMS for smart buildings empowers facility teams as well as building users with the new QR-based contactless service request and complaint management system.
No need to install our App and overload your phone space. Simply scan the code and select the category take a photo if needed and click register.
Well, that's it!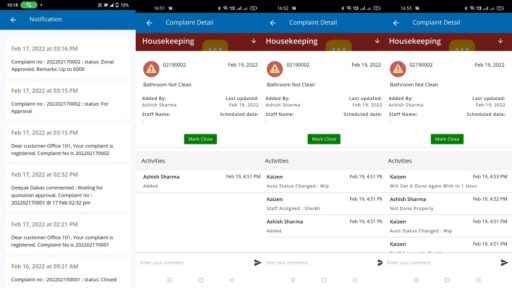 If you need to get a status update, just scan the code again you will be directly taken to the status page. Check if any comment is there from the facility team, add your comment and press GO.
WOW! No hassles!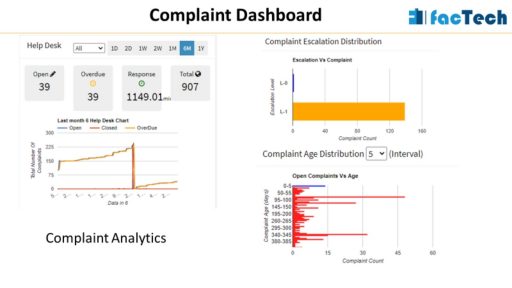 Being a facility manager you want to see the analytics like the number of overdue complaints, open complaints, age, or escalations data. Just open the FM app and see the graphical dashboards with live insightful information.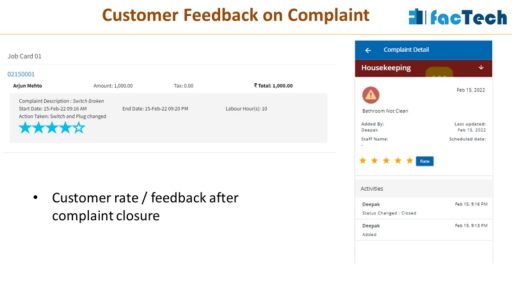 Finally, feedback is very important for both- the facility team as well as users. 
QR-based contactless complaint management system is one of the components of Factech's Kaizen CAFM for Smart Buildings.
Click here to start your Digital FM journey today