HVAC Maintenance System
What are Best Practices for HVAC Maintenance System?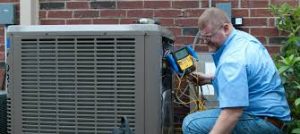 HVAC (Heating, Ventilating, and Air Conditioning) System provides environmental comfort in places ranging from small households to submarines. These systems also require some maintenance to use fresh outdoor air to provide high indoor air quality.
HVAC system does not require high maintenance machines, but it does require some upkeep. To improve the energy efficiency and life of these systems, certain methods are to be implemented.
Some of the Best Practices for Maintaining HVAC System are as follows:
CHECK THE AREA NEAR THE AIR INTAKE
REDUCE THE SYSTEM'S LOAD
MONITORING AND IMPROVING FAN SPEED CONTROLS
CHANE AIR FILTERS TWICE A YEAR
ENSURE THERE IS TWO FEET CLEARANCE
CHECK THE AREA NEAR THE AIR INTAKE- Area near the air intake on your air conditioning unit should be checked every six months. Check out precisely any pools of water near the area and clean it thoroughly. Also, any condensation that has been pooled can lead to the air intake area but if you cannot see any mold, it's worth cleaning up the still water to avoid the growth of certain bacteria.
REDUCE THE SYSTEM'S LOAD- Since the system's load capacity is the amount of cooling and heating energy that has been used during operation respectively. To reduce the heating and cooling loads of a system, door and windows of the building can be sealed and insulated and further installation of energy efficient window films.
MONITORING AND IMPROVING FAN SPEED CONTROLS- Since building needs are constant, in a conventional system some form of mechanical throttling can be used to reduce air and water flow in the system. Most conventional building HVAC systems are designed to operate fans at constant speed. VDF (variable frequency drive) is one of the most successful energy management tools applied to HVAC systems.
CHANGE AIR FILTERS TWICE A YEAR- Changing the system's air filters is not a big task to be performed personally. Air filters should be changed/replaced twice a year and should be checked at least once a month. Air filters are changed twice a year so as to produce high-quality air.
ENSURE THERE IS TWO FEET CLEARANCE- Two feet clearance around the HVAC unit should be maintained for better airflow and to avoid bacterial growth near the particular area.
There are several other practices for the maintenance of HVAC systems and they are as follows:
Scheduling routine inspection
Inspection of evaporator coils on a yearly basis
Covering the system properly for the winters.
FACTECH SOLUTION AUTOMATION PVT LTD is a company which provides software product for the maintenance of Assets like HVAC system. To know more, please visit the website: https://factech.co.in/
Refer below link to download the excel containing different check list for Planned Maintenance of different Asset.
How to add all instructions of a Work Order or Job in one step
The checklist include below assets:
DG Sync Panel

LT Panel

Air Circuit Breaker

Lift Panel

HVAC Panel

DG Aux Panel

Plumbing and Fire Panel

Capicator Panel

Invertor

UPS

Transformer

DG

Softner System

L & P

Diesel Transfer Pump

Fire Alarm System

Blower

Condenser Pump

Colling Tower

CT Fan

Split AC

Water Pump

Soft Water Pump

Filter Feed Pump

Exhaust Fan

Fire Extinguisher

Washroom

Earth Pit

Water Treatment Plant

Hydropneumatic System
With Factech Kaizen System, you get the checklist readymade for your assets. Get start your preventive maintenance immediately with industry best practices.
www.factech.co.in