Touchless Facility Management Service – Facility technology
Touchless Facility Management boost confidence in Property
Earlier facilities used to define points where customers visit the most. Facility Managers and Housekeeping supervisors keep special attention to those touchpoints. This was done to ensure that most visited places or points are neat and clean so that customers, tenants, or visitors observe hygienic and clean environments.
Corona has changed this touchpoint philosophy. Now touchpoints are those points that any human touches while walking, working, meeting in the facility. The points, which are touched most, are the attention area for the housekeeper.
What is touchless Facility Management?
Touchless FM is the approach where maximum operations and actions are performed
without touching objects,

without exchanging physical materials across humans.
As all activities can't be touchless, the objective is to minimize the touchpoints.
Why touchless FM?
Corona has expedited the need for touchless operations. The key advantages include:
Control Virus Spread: Many viruses including corona spread if any surface or object is touched by an infected person and same been touched by another person.
Paperless: Papers, logbooks, pens are mostly shared across the team. In virus spread, most operations are digital, the use of paper is minimal. This indirectly benefits the environment.
Touchless Facility Management stopping corona spread
With touchless and regular sanitization we can eliminate corona spread. The different steps taken are:
1. Identify touchpoints
The first step is to list down points that are most touched. A few examples are:
Elevator switches

Door handles

Railings

Pantry area

Restrooms
2. Eliminate Touchpoints
We can use technology and advanced tools to eliminate touchpoints. One example is using destination-controlled elevators. Here we need to enter the floor no in the lift lobby and the assigned lift will automatically stop at that floor. No other switch touches are required.
3. Regular Cleaning & Sanitization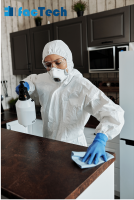 The cleaning of different points is scheduled as per the frequency of touchpoints. The elevator switch can be sanitized every 30 minutes.
Boost Confidence in Property
By taking measures for corona control, you increase the confidence of tenants, visitors, customers in your facility.  There are 2 aspects:
1. Infra Related
Does your building infrastructure support touchless operations? A few examples can be
Destination controlled elevators – only 1 button in the lift lobby

RFID card-based entry – with fastags etc. no human touch required for entry of visitor and employee vehicles. All transactions are cashless.
2. Operations Related
You can design operations that are touchless. Smart Washrooms solutions are norms nowadays. Other measures are:
Sensor-based soap dispensers

Foot-operated Water dispensers

Provide adequate PPE Kits, Masks to the operation team

Ensure each employee has been properly vaccinated.

Future Facility Management Trends
Our Facility Management should be future-ready so that we can control virus spread and maintain the property effectively. A few measures are:
Standardization of Processes – SOPs ( System Operating Process) should be implemented at the grass route level.

Digital Operations. We should Digitize as much as possible. This leads to increased efficiency and enables us to work remotely.

Optimize touchless operations to control virus spread. 

Regular Training. Training is a must for self-discipline. We should  make standards habits
Remote working is here to stay forever. With the advance of technology, we are getting more and more tools that empower us to work remotely effectively.
Click here to start your Contactless Facility Management
How to perform maintenance or housekeeping activity in Technician App?