Advance IVR enabled Complaint management system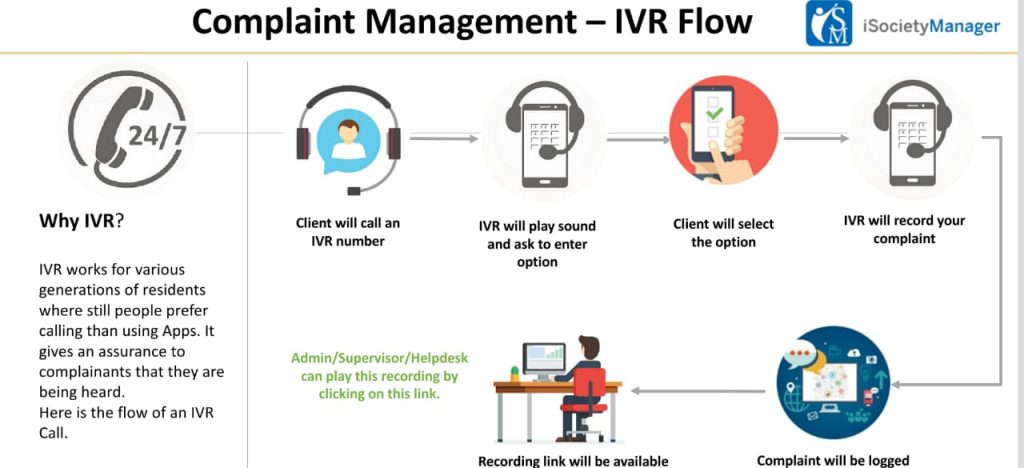 Advance IVR enabled Complaint management system IVR enabled (iSocietymanager)
In today's time, the occupancy are generally very high in the societies and there is need to be proper complaint management. The members of the society face issues in daily routine like electricity, water, parking, lift etc.
The society management is expected solve all the complaints but if there is no advanced and smart complaint help-desk  solution then it become very difficult and time consuming doing it manually.
Nothing is more challenging than dealing with day to day complains registered verbally through intercom from residents at the helpdesk.
Do you also face the same challenge every day even though you are using a complaint management system? Do you still get calls for logging complaints from intercom?
Now with iSocietymanager Complaint management system, not only you can track complaints online but also facilitate residents to raise there complaint though a very swift and interactive IVR system.
IVR based complaint management is an integrated communication system to record the the complaint and their status even when no one is required to sit physically at the help-desk. Users can register their complaint through any phone at any time. Now it is possible for all the residents to register their complaint even if they have not downloaded the app by just calling a specific number provided to them. 
Helpdesk / Complaint Management (IVR)
Manage your complaints like never before! IVR enabled
       

Complaint gets automatically assigned to the Staff based on slots and open complaints, Staff              Leaves/ Work Slots configurable.

       

Customer can raise complaint 24*7 through Web, Mobile App and IVR (Interactive Voice                   Response)

       

Management can track their Staff Performance and take better decisions.

       

Complaint Escalation Levels to keep track of escalations.

       

Complaint Reporting Analytics, Graphs and Charts.

       

Automatic Job Cards and OTP for Complaint closure.
Do call us to know more about it @ 9811600620. Visit: https://factech.co.in/customer-complaint-management-system.html 
Is Your Plumber Following Up Customers for Closing Complaints?