PPM Maintenance & Soft FM
How to get started with Asset Management, PPM Maintenance & Housekeeping?

Factech offers a comprehensive asset management system – Kaizen, to manage and track both soft and hard FM Jobs.
Fixed Assets: Like Diesel Generator ( DG), Lift, STP, Electric Motors, HVAC, Panels, etc.
Planned or Scheduled Task: Planned maintenance tasks like – DG A Check, etc. You can define 52 Week Calendar as Recurring tasks and get auto alerts.
Break Down Tasks: Ad hoc break down and tasks.

Asset Performance Monitoring Insights: 

Kaizen helps you to monitor the performance of your assets like Chiller, Transformer, STP, etc. Intelligent Data give you insights for making better decisions.

IoT and AI-Driven:

Kaizen is integrated with your BMS or existing assets through edge devices. Kaizen AI-based Analytical services give you recommendations based on history and trends.

DG Efficiency: Track the efficiency of your DG and get access to analytics. You can take better data-driven decisions.
Perform Asset Maintenance Task: Perform scheduled or breakdown maintenance tasks on the asset.
Auto Alerts of scheduled Tasks: Configure and get auto alerts of your scheduled or planned tasks.

E-Checklists: 

Digital Checklists on Technician Mobile App

Housekeeping Schedules
---
Get Started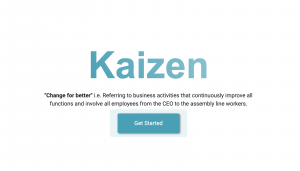 First time after site creation user will land to KaiZen get started Page. Click on the button to continue.
Next Steps
Useful Links:
Planned Preventive Maintenance FAQ
What are Key Performance Indicators (KPI) in Facility Management?