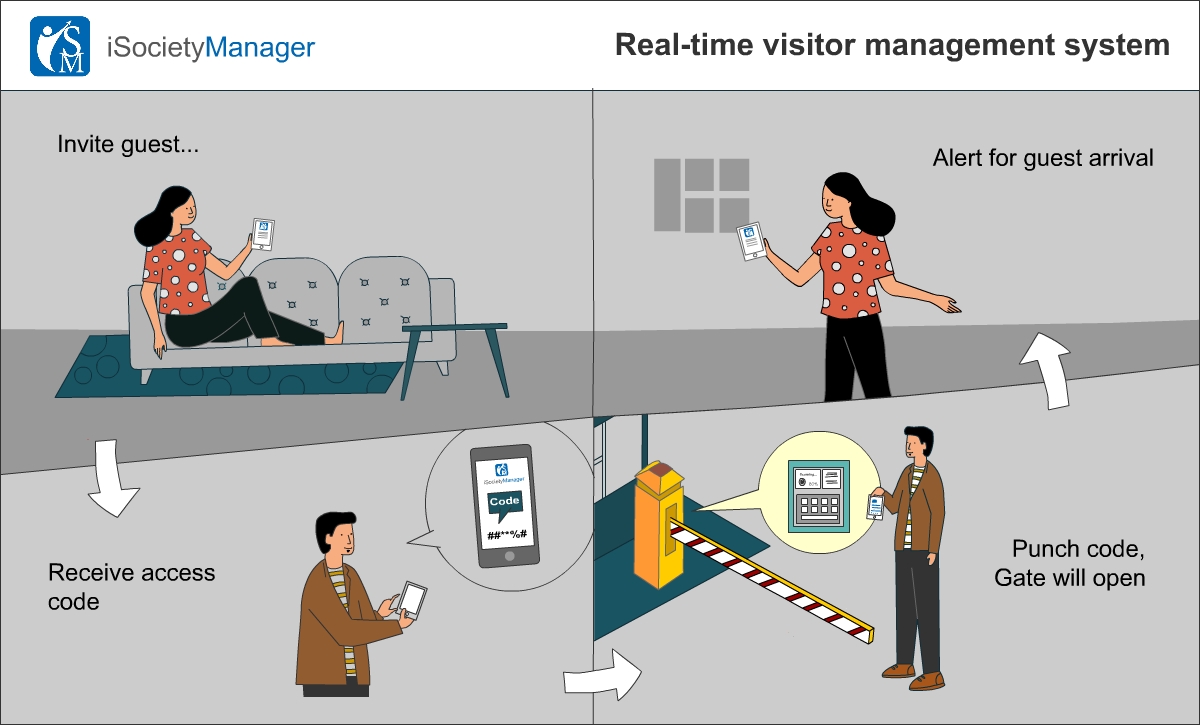 iSocietyManager is a real estate and facilities management software suite for residential and commercial real estate. We obsess about customers and are always looking for ways to delight them with innovation. In our pursuit to delight customers, we recently launched an automated real-time visitor management system for Unitech Heights, Greater Noida. The fact that delights our customers the most about our solution is no human interaction is needed to enter the society hence eliminating any possibility for social engineering to get access to the residential community. Each Visitor is provided with a unique, system generated access code to enter in the society's complex. The physical barrier only lets vehicles enter after entering the security code which is verified in real time.
This feature was conceived after a major security concern related to the manual nature of visitor management in the community was brought to our attention. Although access control with a physical barrier for vehicles and visitors was already installed in their society, the security guard was expected to manually operate the barrier for each visitor after enquiring about the purpose of their visit. RWA was concerned about the inadequacy of the protocol and multiple attempts by visitors to social engineer their way into society. They needed a system which was more robust and to remove this manual process of opening the barrier with some automated solution with access control directly by approval from host. Our team heard their concerns and collected requirements. We noticed a few things from our requirements gathering:
Authority of guards was often challenged by visitors.

Visitor cars could not be verified easily due to challenges related to traffic management.

Security guards were misusing their authority to let solicitors enter the community.
We had 3 tenets while designing this solution:
We need to establish trust by technology.

Responsibility for access should be in the hands of Hosts.

The system should be able to verify access in real time.
The solution proposed was as follows. In order to provide access to a visitor, the host would need to generate an access code in iSocietyManager mobile app. This access code would then be shared by the host with the guest prior to their visit. This code, when entered on access control at the main gate, will send a push notification to the host's app informing about the guest entry. In case guests show up unannounced, (we all dread such guests, don't we! ), the host can access or reject the request via push notification or IVR.
We ran a pilot for this feature for 15 days to get customer feedback. This was successfully launched on 1-Feb 2019. Our internal analytics show that there was an increase in app adoption and usage of other app features by residents due to the compelling use case of this feature.
If your community is looking for a similar solution, please feel free to reach out to us: support@isocietymanager.com +91 844 886 9708. You can also request a demo here.