Society Management Services
What is Society Management?
A healthy, happy, and prosperous life is best lived in clean, hygienic surroundings. Sanitory and orderly living circumstances are always a must, whether you live in a housing society or a distinct housing neighbourhood. Cleaning actively and frequently is very important for housing societies and apartments. Here comes the reliable iSocietyManager.
iSocietyManager is a unified Facility and Resident ERP System to manage all your society operation with easy access through Mobile App for Resident, RWA, Facility, and Technicians. It provides analytics to management to help in taking better decisions like Vendor Performance, Budgeting, PPM, Alerts on Minimum Stock Level.
Services managed under society management:
Security service
Household maintenance
Communal area maintenance
Phone assistants
Facilities provided by iSocietyManager at Factech:
Apart from primary facilities like maintenance of the facility; asset tagging; and GPS, location tagging is one of the other essential features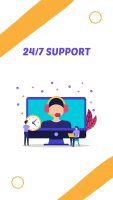 Helpdesk/Complaint Management (IVR)
Based on available slots, open complaints, and staff absences or work shifts, complaints are automatically assigned to the appropriate staff members. Customers can raise complaints 24*7 through the Web, Mobile App or IVR (Interactive Voice Response) and track the complaint. Even the Management can track their Staff Performance and take better decisions.
Billing and Payment Collection
Occupants can pay their bills online. This online system enables Charge Wise Adjustment / Arrear and Advance Charge handling. It even includes Automatic payment reminders to the occupants and automated raising of invoices to reduce human error.
Maintain your society accounts online to receive automatically updated financial statements. The services include-
Journal Entry Posting and General Ledger – for any Account.

Trial Balance at any point of time.

Income and Expense accounts automatically prepared.

Balance Sheet automatically prepared.
Occupants can create a pass or recurring pass for their visitors with the shared address and Google Map link. Guards can record photos, information about vehicles, etc. receives automated Time Exceed Alerts.
The Visitor Management System is also accessible to family members. A security guard can prevent visitors.
In an emergency, occupants can click a straightforward button to alert security, other admin, etc.
Utilizing Face Recognition (AI), Smart Card (RFID), Biometric & Face recognition technology, track maids and staff in society. This happens with the help of a device that is placed at the security gate. Each staff will Punch/Touch the Smart card at a device or Face Based Identification from App. Then the Staff detail and Photo will be displayed on the screen. An alert will then be delivered to the user's app, where they can check their attendance. If the validity expires, the system will notify security.
Contact us for a free demo of how our expertise can help you achieve your business goals.